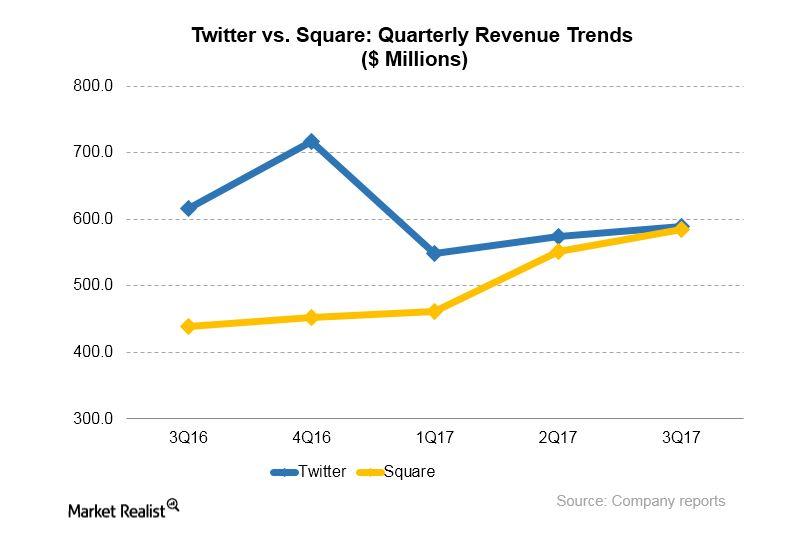 Did Twitter and Square Drift Further Apart?
Twitter's top line sank 4.0% as Square's rose 33%
Twitter (TWTR) and Square (SQ), two US-based (SPY) companies that operate in different industries but are run by the same chief executive, reported their 3Q17 results more than a week apart. Twitter reported on October 26, and Square reported on November 8.
When the reports came out, they showed that the companies' top lines moved in opposite directions in 3Q17, echoing their 2Q17 movement.
Twitter's revenues fell 4.0% YoY (year-over-year) to $590.0 million in 3Q17, but Square's revenues rose 33% YoY to $585.0 million in the same period. Twitter's revenues fell 4.6%, while Square's revenues rose 25.8% in 2Q17.
Article continues below advertisement
Twitter controlled costs better than Square
Twitter appears to have controlled its costs better than Square in 3Q17. While Twitter's total operating expenses decreased 16.0% YoY in 3Q17, Square's expenses rose 28.0% YoY.
Spending tied to marketing and product development (or R&D) drove Square's costs in 3Q17, as they increased 42.0% and 17.0% YoY, respectively. In contrast, Twitter's marketing and R&D costs declined 23.0% YoY in each case.
Adjusted EPS improved at both companies
Although both Twitter and Square are not profitable on a GAAP[1. generally accepted accounting principles] basis, they both posted improved non-GAAP earnings in 3Q17.
Twitter posted adjusted EPS (earnings per share) of $0.10 in 3Q17, compared with adjusted EPS of $0.09 in 2Q17. Twitter's online advertising competitor Facebook (FB) posted EPS of $1.59.
Square's adjusted EPS came to $0.07, indicating an improvement of $0.06 over 2Q17. Square's payments rival PayPal (PYPL) posted EPS of $0.46 in the same period.
Since Jack Dorsey, the CEO of both Twitter and Square, talked about potential synergies between the companies, it has been important to compare the financial performance of these companies.