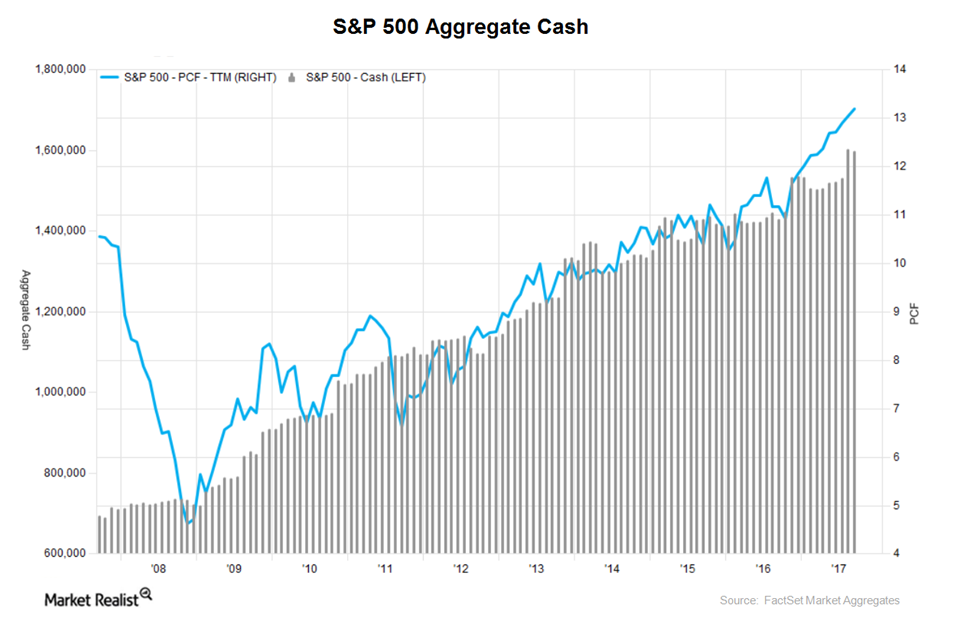 Could Tax Reform Lead to Increased Dividends and Share Buybacks for IBM?
Repatriated cash could be used to fund share buybacks
Earlier in this series, we discussed the increase in IBM's (IBM) share buyback program and its overseas exposure. Let's discuss the potential impact of the Trump administration's tax reform plan on IBM's dividends and share buybacks.
Introduced on September 27, 2017, this tax reform plan aims to lower the current 35% corporate tax rates to 15%. The plan would also issue a tax holiday for US companies to encourage them to repatriate their overseas cash reserves to the US.
The House Committee on Ways and Means aims unveiled a draft tax plan on November 1, 2017. If this policy is enacted, Reuters reported that it could "be the biggest restructuring of the tax system since the 1980s."
While this proposed plan is still under consideration, it is crucial to analyze the impact this plan could have on IBM's overseas cash usage.
Article continues below advertisement
Cash usage and value creation
The chart above shows that the S&P 500's (VOO) total cash balances have been rising in the past ten years and reached new highs this year.
Like its technology peers Microsoft (MSFT), Apple (AAPL), and Oracle (ORCL), IBM would utilize its overseas cash reserves to fund its dividends and share buybacks.
Citing IMF (International Monetary Fund) data, Factset wrote that Apple, Microsoft, and Berkshire Hathaway collectively have cash reserves of $450.0 billion and are the top three players in terms of cash reserves. Their overall cash reserves are close to the GDP of Belgium.
Factset tested a hypothesis that when companies plow back investments to generate organic growth, rather than seeking shareholder value through share buybacks or dividends, they tend to perform better.
Factset took the S&P 500 and back-tested cash usage factors for the last ten years. The factor model observed R&D expenditures, debt reductions, CFI (cash flow from investing), dividends paid, and share buybacks.
The results showed that companies that return their repatriated cash to the company to seek organic growth should expect more gains than those that put cash into buybacks and dividends.