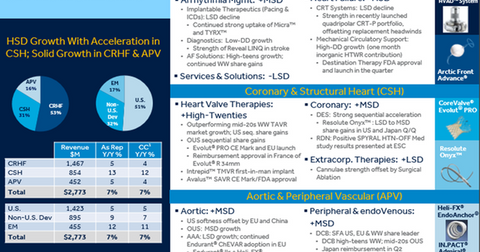 Strong TAVR Adoption Is a Key Growth Driver for MDT's CVG Business
By Sarah Collins

Updated
Overview
Medtronic (MDT) posted a decline in sales in fiscal 2Q18, as reported during the company's earnings announcement on November 21, 2017. Hurricane Maria and the divestiture of a part of the company's PMR (Patient Monitoring and Recovery) business to Cardinal Health (CAH) were the major factors impacting the company's performance in the quarter.
For brief highlights of the company's performance in the quarter, please read What Investors Should Know about Medtronic's Fiscal 2Q18 Earnings.
Medtronic's CVG (Cardiac and Vascular Group) business reported growth of ~7.0% on a YoY (year-over-year) basis. All segments of the company's CVG business registered a growth in revenues.
The CRHF (Cardiac Rhythm & Heart Failure) segment and the APV (Aortic & Peripheral Vascular) segment each reported sales growth of ~5.0%. However, the highest growth segment of Medtronic's CVG business was CSH (Coronary and Structural Heart), which reported YoY sales growth of ~13.0% in fiscal 2Q18.
Major factors driving CVG business growth
Medtronic's (MDT) CVG segment growth was driven by the portfolio's breadth and depth and the strong position of its CVG products and solutions in high-growth markets. The TAVR (transcatheter aortic valve replacement) therapy market is one of the fastest-growing areas, and Medtronic is well-positioned in this market. The company's TAVR sales comprise ~33.0% of the total CSH segment sales of Medtronic's CVG business.
In the United States, TAVR sales reported growth in the low 40s in fiscal 2Q18. The company's international TAVR sales in the quarter grew in the high 30s. This robust growth momentum was driven by continued strong adoption of TAVR around the world and the company's recent launch of the Evolut PRO valve.
For more on the launch, please read Global Launch of Evolut PRO Valve Could Drive MDT's TAVR Business. Also, the new intermediate risk indication for Medtronic's TAVR therapy in the United States has resulted in higher market share gains by the company.
Edwards Lifesciences (EW) is the only other medical device player with an FDA-approved TAVR product in the market. Boston Scientific (BSX) is also a potential competitor, but it doesn't yet have a TAVR product approved in the United States.
To participate in Medtronic's growth triggered by such opportunities, investors can seek diversified exposure to the company through the iShares Russell 1000 Value ETF (IWD). IWD holds ~0.87% of its total holdings in MDT.