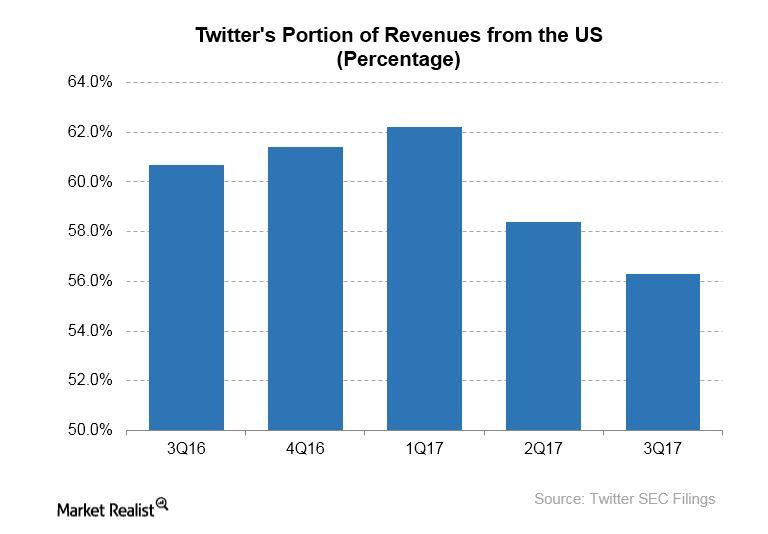 Spotlighting Twitter's US Business
The US contributed 56.3% of revenues
Twitter (TWTR) has typically relied on the US (SPY) for the majority of its quarterly revenues. In 3Q17, 56.3% of the company's revenues came from the US. However, a scrutiny of Twitter's recent quarterly results reveals that the US's contribution to the company's top line has trended downward in the last two quarters.
While Twitter generated 56.3% of its revenues from the US in 3Q17, it relied on the US for 58.4% of its revenues in 2Q17. The US supplied 62.2% of Twitter's revenues in 1Q17.
Article continues below advertisement
US revenues down 11%
In actual dollar value, Twitter (TWTR) generated revenues of $332.0 million in the US in 3Q17, down 11.0% YoY (year-over-year). A drop of 11% YoY implies that Twitter's US revenues decreased more rapidly than its global revenues, which shrank 4.0% YoY in 3Q17.
Because Facebook (FB), Snap (SNAP), and Alphabet (GOOGL) also look to the US for a significant portion of their revenues, the drop in Twitter's US revenues could be attributed to stiff competition in the US digital advertising industry.
Facebook generated 48.5% of its revenues from the US and Canada in 3Q17. Snap generated 80.3% of its revenues from North America in 3Q17.
About 20% of Twitter MAUs reside in the US
Although Twitter (TWTR) relies on the US for more than half of its revenues, less than a quarter of its monthly audience resides in the US. Twitter closed 3Q17 with 330.0 million MAUs (monthly active users) worldwide, including 69.0 million MAUs in the US. This implies that just about 20.9% of Twitter's monthly audience is in the US.
Twitter's US MAU base increased 4.0% YoY in 3Q17. The company's global MAUs increased at a similar rate during the quarter.