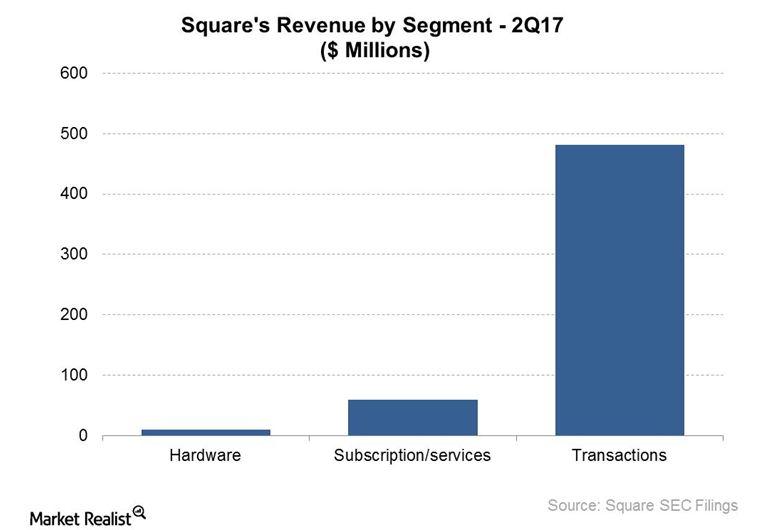 This Product Could Boost Square's Hardware Sales
Hardware lagged in 2Q17
In 2Q17, Square's (SQ) hardware business generated revenue of $10 million, down 7.0% year-over-year. The company blamed the year-over-year drop in hardware sales on tough comparisons because hardware sales in 2Q16 were unusually strong due to customer upgrades to a new POS (point-of-sale) device.
Square reports revenues in three main segments as transaction-based revenue, subscription and services-based revenue, and hardware revenue. While hardware revenue fell 7.0% year-over-year in 2Q17, transaction and subscription or services revenues grew 32% and 99% year-over-year, respectively.
Article continues below advertisement
Hardware supplied 1.8% of revenue in 2Q17
Hardware is Square's smallest business, contributing just 1.8% of the total revenue in 2Q17.
Square recently launched a product that could boost its hardware income. On October 30, the company introduced a new tablet-like POS device called the Square Register. Square explained that the Register is an integrated checkout device aimed at large sellers. The Register may bring much-needed peace of mind to sellers who worry about theft of the smartphones or iPads they use to handle store checkouts in businesses like restaurants.
The Square Register can connect to the Internet via Wi-Fi or ethernet, and it also comes with support for an offline mode in case of an Internet outage.
Potentially significant boost to hardware sales
Selected stores in the United States (SPY) tried the Register before it was made widely available. The Register costs $999, suggesting that this device could be a significant boost to Square's hardware sales if it turns out to be popular with Square merchants. Outside the United States, Square is used by sellers in markets such the United Kingdom (EWU) and Japan (EWJ). Sales opportunities also exist for the company in emerging markets (EEM), thanks to the proliferation of e-commerce.