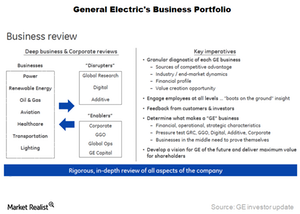 What Portfolio Simplification Means to General Electric?
GE's present portfolio
General Electric's (GE) businesses include aviation, power, renewables, oil and gas through Baker Hughes (BHGE), healthcare, transportation, and lighting. But GE's 3Q17 results show that ~50% of the company's portfolio is facing severe pressure either on revenues or on operating profit growth.
GE has been struggling hard recently for ways to boost top-line growth and increase its operating margins.
Article continues below advertisement
Renewed focus on key verticals
In GE chief executive John Flannery's speech on November 11, 2017, it became pretty clear that GE wants to focus on power, aviation, and healthcare. Flannery's statement noted a "smaller and simpler" structure, and these three segments contributed ~58% of GE's 2016 revenues.
GE's Power (NEE) division's performance has recently complicated by the Alstom acquisition. Alstom's worldwide contract execution capabilities along with overcapacity issues were underplayed by GE. On the investor update call, John Flannery admitted that "Alstom has clearly performed below our expectations," and the "tremendous synergies" foreseen earlier haven't materialized.
Meanwhile, the current macroeconomic trends seem not to support GE's power play with Alstom, and some of GE's Power segment assets are also tied to the oil and gas market, which made the situation worse for these key business verticals.
Soft commodity prices also continue to dampen optimism regarding the Baker Hughes (BHGE) deal synergies. The recent strong quarterly earnings of Schlumberger (SLB) suggest this, though the company's stock price doesn't seem to reflect it, mainly due to the continued uncertainties in the oil and gas (UNG) market surrouding crude oil prices.
GE's ongoing thrust on the aviation business could be positive in light of the US government's 2018 defense budget and IATA's (International Air Transport Association) global passenger and freight traffic growth estimates. At the same time, Flannery's position at the helm of the healthcare division has been reflected in his comments on the segment.
In the next part, we'll take a look at GE's capital reallocation policy.