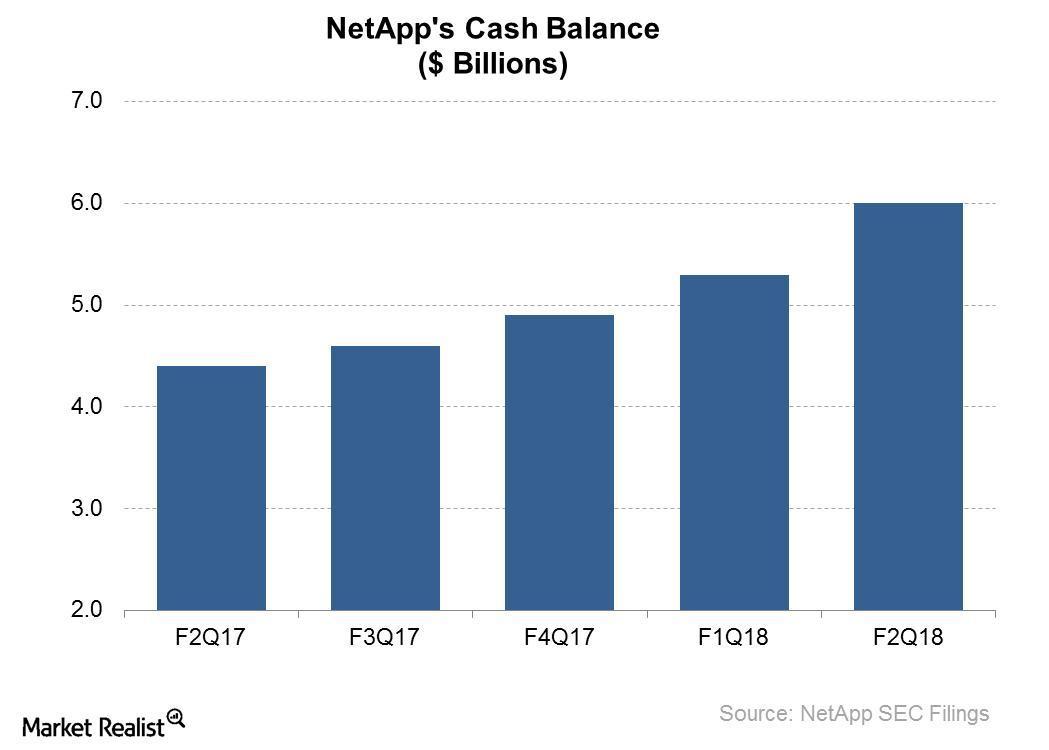 How Do NetApp's Capital Returns Look?
NTAP returns $204 million to shareholders in fiscal 2Q18
NetApp (NTAP) recently declared a quarterly cash dividend of $0.20 per share, which will be distributed to shareholders on January 24, 2018. Dividend payout is just one of the ways NetApp returns value to its investors. The other way the company returns value to investors is through share repurchases.
In fiscal 2Q18 (October quarter), NetApp distributed $54 million in cash dividends and repurchased shares worth $150 million, resulting in a combined capital return of $204 million in the quarter. The company returned a similar amount of capital in fiscal 1Q18. So far in fiscal 2018, NetApp shareholders have received $408 million from the company in capital returns. Since 2013, the company has returned more than $6.5 billion in combined dividends and share repurchases to its shareholders.
Article continues below advertisement
$494 million remaining under existing repurchase program
NetApp closed 2Q18 with $494 million remaining under its current share repurchase program, which was announced in February 2015. The company said that it expects to have used up the remaining amount in the existing repurchase authorization by the end of May 2018.
NetApp generated $314 million in cash flow from operations in 2Q18, nearly two times that of the corresponding period last year. The company also generated strong free cash flows of $285 million, indicating an increase of 179% YoY. As a result, NetApp closed 2Q18 with a cash balance of $6.0 billion, up 13.2% over the previous quarter.
NetApp increased its cash balance faster than competitors did
With a sequential increase of 13.2%, NetApp's cash balance rose faster than that of many of its industry peers in the past three months. The cash balances of Quantum (QTM) and Dell Technologies (DVMT) rose 9.7% and 0.5% sequentially in their fiscal 2Q18, respectively. But the cash balances of Pure Storage (PSTG) and Seagate Technology (STX) fell 2.4% and 9.8% sequentially during the period that corresponds to NetApp's 2Q18.