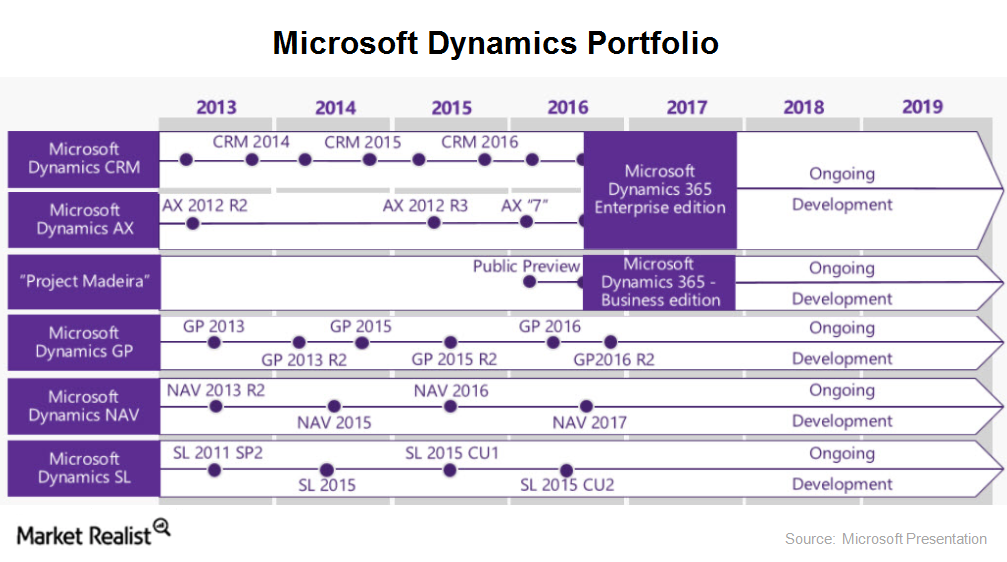 How Microsoft's Dynamics 365 Performed in Fiscal 1Q18
Microsoft Dynamics 365's growth continues
Along with Azure and Office 365, Microsoft's Dynamics business has strengthened and expanded Microsoft's (MSFT) presence in the cloud space. Microsoft's Dynamics business, which includes Dynamics 365, continued its growth journey in fiscal 1Q18.
Dynamics 365 is an Azure-hosted offering that combines ERP (enterprise resource planning) and CRM (customer relationship management) offerings.
Microsoft's Dynamics products and cloud offerings revenues grew 13% in constant currency terms on the back of Dynamics 365, which grew 69% in fiscal 1Q18. In the most recent quarter, Dynamics 365's customer base grew 40% on a YoY basis.
Article continues below advertisement
Microsoft Dynamics 365
Microsoft noted that it took a "people-centered approach" and integrated "Office 365, Windows 10 and Enterprise Mobility + Security" to provide Microsoft 365. Due to its compact integration with other company's offerings, Microsoft 365 has an appeal for workflows dependent on Microsoft. Microsoft 365 is a comprehensive solution intended to serve organizations regardless of size.
Recently, Microsoft enhanced its Dynamics 365 features through the addition of AI functionalities and deeper integration with the LinkedIn professional network. Adobe's (ADBE) Marketing Cloud integration also benefited Dynamics 365.
Microsoft and Adobe entered into a partnership at Microsoft's 2016 Ignite conference. Adobe is a leader in the marketing cloud space, and its Marketing Cloud is expected to command a $27 billion market by 2018.
These integrations and enhancements could enable Microsoft's enterprise customers to scale up their marketing capabilities with the goal of customers choosing Microsoft Dynamics 365 over its peers' offerings.