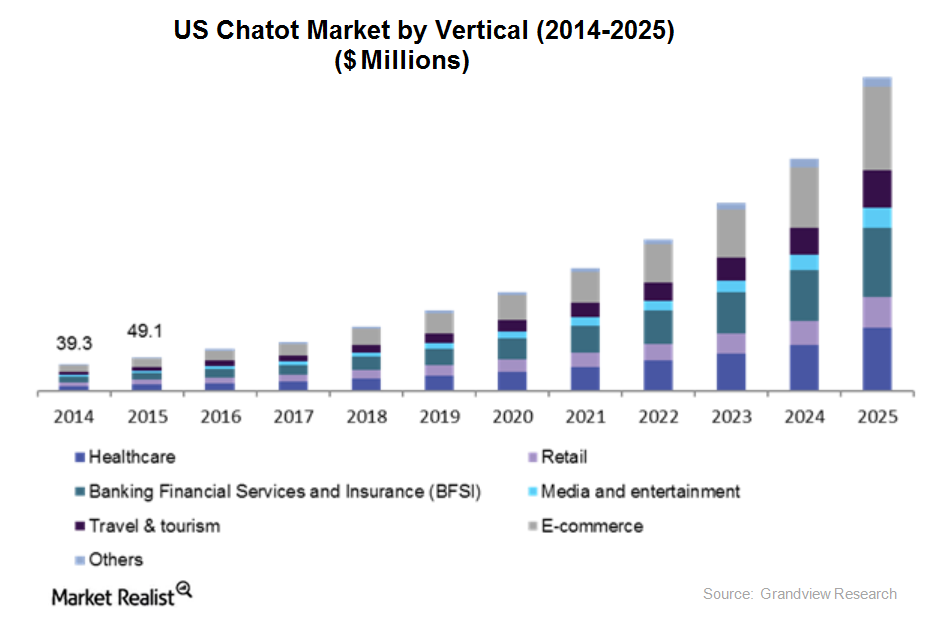 A Look at Oracle's Artificial-lntelligence-Powered Chatbot
By Anne Shields

Nov. 29 2017, Updated 10:32 a.m. ET
Oracle's AI-powered chatbot
Earlier in the series, we looked at Oracle's partnership with Slack. Recently, Oracle (ORCL) launched a chatbot powered by AI (artificial intelligence). A chatbot is an AI software program that could revolutionize the way users and brands connect with each other.
AI-based chatbots enable streamlining of overall productivity companies' departments. They mechanize and replace simple tasks so humans (employees) can dedicate their efforts, time, and energy by simplifying more complex issues. It's a growing consensus that AI-based chatbots, by improvising business processes and mechanizing customer service functions, will enhance customer experience.
Article continues below advertisement
According to a joint research by ICMI (International Customer Management Institute) and Oracle, which surveyed contact center professionals, about 85% of respondents shared their need to implement AI to enhance customer experience. About 41% anticipate their contact centers' use of bots and AI to increase in the next one to one-and-a-half years. Within the next year, 57% of organizations plan to support and offer IoT (Internet of Things) connected technologies.
Chatbot market is set to become a billion-dollar market in the near future
According to Grand View Research, a market research firm, the global chatbot market was worth $190.8 million in 2016 and is expected to grow at a CAGR (compound annual growth rate) of 24.3% to become a $1.25 billion market by 2025.
According to AI & Intelligent Automation Network, large enterprises were the biggest end-user segments for chatbots last year. They are estimated to grow at a CAGR of 24.2% until 2025. Increasingly, chatbots facilitate a better understanding of consumer behavior with the aid of machine learning, which explains its increased use in applications in large enterprises.