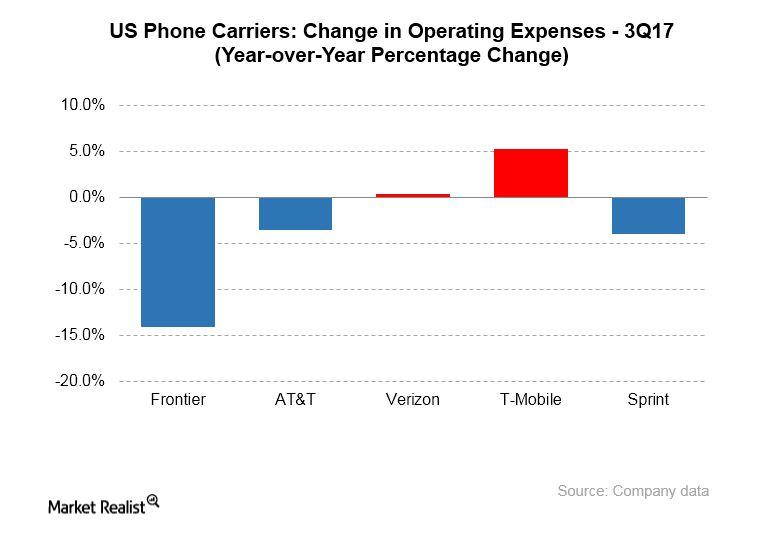 How Is Frontier Progressing with Its Cost-Cutting Initiatives?
Frontier on track to cut $350 million in costs
Frontier Communications (FTR) is executing a cost-savings plan as part of its efforts to improve profitability. The company continued with its cost-cutting plan in 3Q17, with a favorable outcome being registered.
Frontier Communications noted that it achieved more than $19.0 million in cost synergies in 3Q17. It remains on track to achieve its target of $350.0 million in annual cost savings by mid-2018.
A close look at FTR's cost structure reveals a material decline in operating expenses, implying that the company's cost-control efforts are bearing fruit.
Article continues below advertisement
Operating expenses fell more than 14%
The chart above shows Frontier Communications' quarterly operating expenses trendline. Total operating expenses for 3Q17 reached $1.9 billion, compared to $2.3 billion in 3Q16. This trend implies that Frontier's operating expenses fell 14.1% year-over-year.
AT&T's (T) operating expenses fell less than 3.5% year-over-year in 3Q17. Verizon's (VZ) operating expenses increased ~0.41% year-over-year, T-Mobile's (TMUS) operating expenses increased 5.3% year-over-year, and Sprint's (S) operating expenses decreased 3.9% year-over-year in 3Q17.
These metrics indicate that Frontier registered the sharpest year-over-year drop in operating expenses in 3Q17 among its industry peers.
How Frontier ended up with lower expenses in 3Q17
The fall in Frontier Communications' operating expenses was due to declines in costs tied to network access and sales and marketing. Network expenses totaled $887.0 million in 3Q17, compared with $967.0 million in 3Q16.
Its SG&A (selling, general, and administration) expenses totaled $486.0 million in 3Q17, compared with $582.0 million in 3Q16.