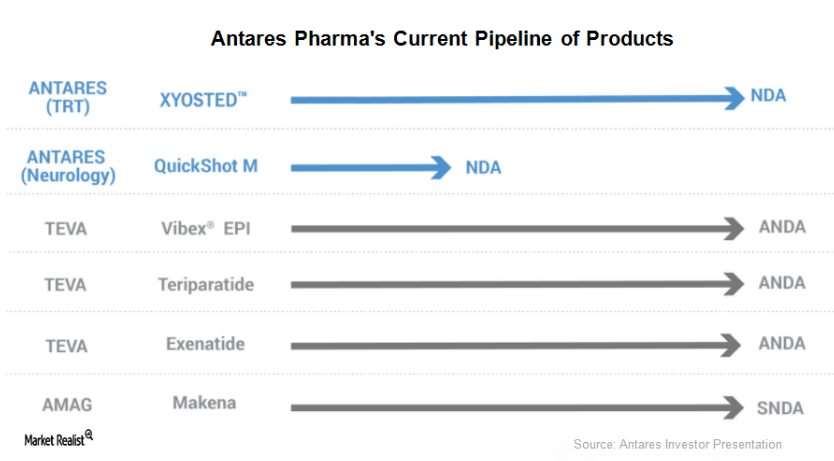 Antares Pharma's Sale of ZomaJet to Ferring Pharmaceuticals
By Kenneth Smith

Nov. 16 2017, Updated 10:31 a.m. ET
Vibex
Antares Pharma (ATRS) is currently developing a variation of its Vibex quick-shot autoinjector for use with AMAG's Makena injection as a treatment of preterm birth in partnership with AMAG.
AMAG is responsible for the development, regulatory applications, manufacture, and supply of the drug. Antares Pharma is responsible for the design and development of the autoinjection device and the manufacturing and supply of the device.
Antares Pharma is also responsible for the assembly and packaging of the final product. The FDA has set a PDUFA target action date of February 14, 2018, for the product.
Article continues below advertisement
Strategic sale of ZomaJet assets
ZomaJet is Antares Pharma's needle-free autoinjector, which is designed to deliver human growth hormone (or HGH) treatment to children with growth retardation.
The product is reusable, with each device designed to last for ~3,000 injections. According to Symphony Health Solutions, HGH sales in the US totaled $2.1 billion in 2016.
On October 10, 2017, Antares Pharma announced the sale of the ZomaJet system to Ferring Pharmaceuticals. The company agreed to sell the worldwide rights for the autoinjector device to Ferring Pharmaceuticals for up to $14.5 million.
The purchase price would be paid in four installments, consisting of a $2.0 million upfront payment, ~$2.8 million payable on satisfaction of certain conditions, ~$4.8 million on fulfillment of customary closing conditions, and $5.0 million on completion of the transaction.
ZomaJet and ATRS
Until now, Antares Pharma (ATRS) was the worldwide supplier of ZomaJet devices for Ferring Pharmaceuticals. The company would supply the devices until the completion date of the agreement.
This transaction is expected to be closed in 2018. The sales of the devices contributed ~$5.5 million in annual revenues to Antares Pharma in the past three years.
Antares Pharma intends to use the proceeds generated to invest in its pipeline of drugs. It intends to use these proceeds to support the potential launch of Xyosted used in testosterone replacement therapy.
With this strategic sale, the company is well positioned to effectively carry out new product development and research activities, allowing it to compete more effectively with its peers.
Antares Pharma's quick ratio stands at 3.0 compared with 5.7, 7.9, and 1.8 for peers Inogen (INGN), Intersect (XENT), and Orthofix (OFIX), respectively. The quick ratio, also called the acid-test ratio, tells us how effectively a company can meet its short-term financial liabilities.
Antares Pharma makes up about 0.08% of the iShares Micro-Cap ETF's (IWC) total portfolio holdings.
In the next part of this series, we'll take a deeper look at the company's financials.