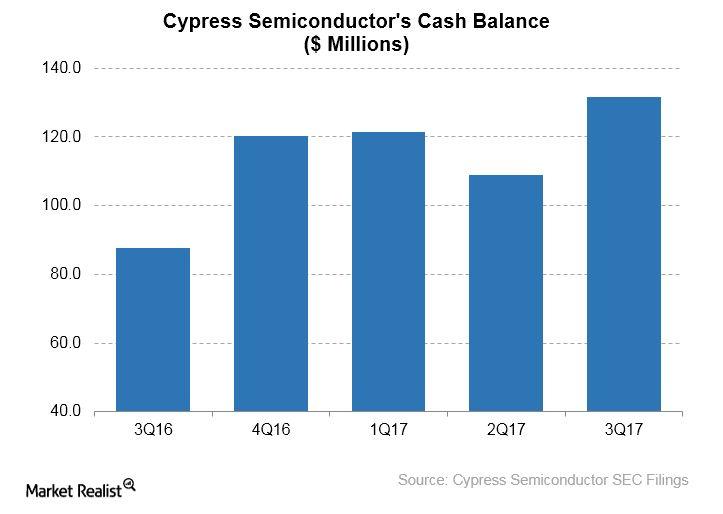 Why Cypress Semiconductor Is Raising Debt
Cypress Semiconductor raising $130 million via debt
On November 2, 2017, Cypress Semiconductor (CY) issued a press release announcing the pricing of a debt offering that it had proposed earlier. The company stated that it was raising $130 million through convertible notes due in 2023.
The debt offering was to be made in a private placement arrangement with qualified institutional investors.
With respect to redeeming these notes, the initial conversion rate was set at 46.7099 shares of Cypress Semiconductor's common stock per $1,000 principal amount of notes.
This rate implies a conversion price of about $21.41 per share. Cypress Semiconductor stock last traded at $15.57 on the day before the pricing of the debt.
Article continues below advertisement
Retiring older notes
Cypress Semiconductor (CY) was expecting net proceeds of ~$126 million from the debt offering, assuming the purchasers didn't exercise the option to purchase an additional $20 million of notes they were granted by the company under the offering.
Cypress Semiconductor noted it intended to use the net proceeds from the offering, together with its cash balance, to retire a portion of older notes issued by Spansion LLC, its wholly owned subsidiary.
Cypress Semiconductor acquired Spansion in 2015 for ~$5.0 billion in an all-stock transaction. Spansion had outstanding notes at the time the transaction closed.
Cypress Semiconductor's cash balance
Cypress Semiconductor finished 3Q17 with a cash balance of $131.6 million, up from $108.8 million in 2Q17.
Qualcomm (QCOM), Advanced Micro Devices (AMD), Integrated Device Technology (IDTI), and Silicon Laboratories (SLAB) had cash balances of $38.6 billion, $879.0 million, $370.5 million, and 718.7 million, respectively, at the end of their quarters corresponding to Cypress Semiconductor's 3Q17.