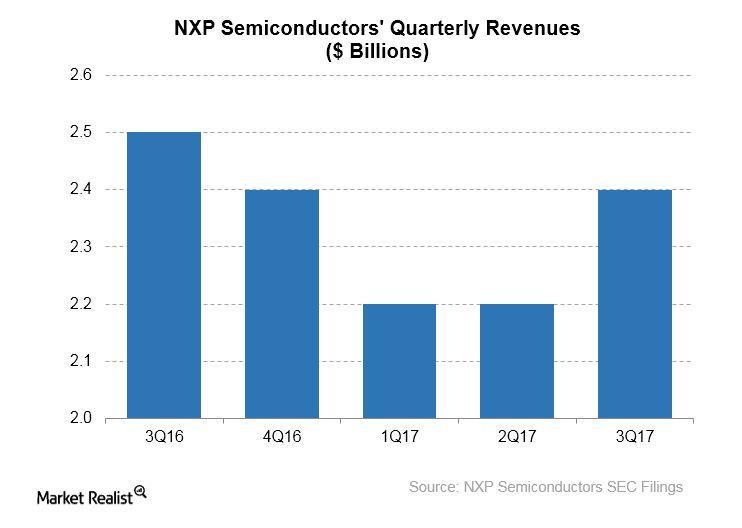 How Asset Divestment Affected NXP Semiconductors' Performance
NXP sold Standard Products business for $2.8 billion
During 1Q17, NXP Semiconductors (NXPI) divested its Standard Products business. NXPI sold the asset for ~$2.8 billion to a consortium of financial investors including China-based (MCHI) Jianguang Asset Management.
The divested business focused on the development of discrete, logic, and PowerMOS chips. The impact of the divestment of the Standard Products business was felt on NXP's financial performance in 3Q17.
Article continues below advertisement
Revenues fell 3.0%
In 3Q17, NXP reported revenues of about $2.4 billion, implying a decrease of 3.0% YoY (year-over-year). Because revenues in the quarter increased 8.0% sequentially, the year-over-year decrease was attributed to the impact of the divestment of the Standard Products business. The divestment created a disparity in the year-over-year comparison of NXP's performance in 3Q17.
The Standard Products business was a sizeable contributor to NXP's top line. In 2015, for example, the business accounted for more than 20% of NXP's total revenues.
Growth across segments
Except for the disparity in NXP's year-over-year performance comparison in 3Q17, the company recorded growth across most of its key operating segments in the quarter. For example, its Automotive group revenues increased 11.0% YoY to $948.0 million, and its Secure Connected Devices group's revenues rose 20% YoY to $713.0 million.
NXP's industry peers mostly reported growth
While NXP's top line dropped in 3Q17, several of its industry peers posted growth in their comparable quarters. Intel (INTC) reported revenue growth of 6.0% YoY in 3Q17 after adjusting for certain items, but its revenue grew slightly more than 2.0% YoY on a GAAP[1. generally accepted accounting principles] basis. Cypress Semiconductor (CY) reported revenue growth of 14.0% YoY in 3Q17.
Microchip Technology (MCHP) and Maxim Integrated Products (MXIM) reported revenue growth of 16.2% and 3.0% YoY in their September quarters—fiscal 2Q18 and fiscal 1Q18—respectively.