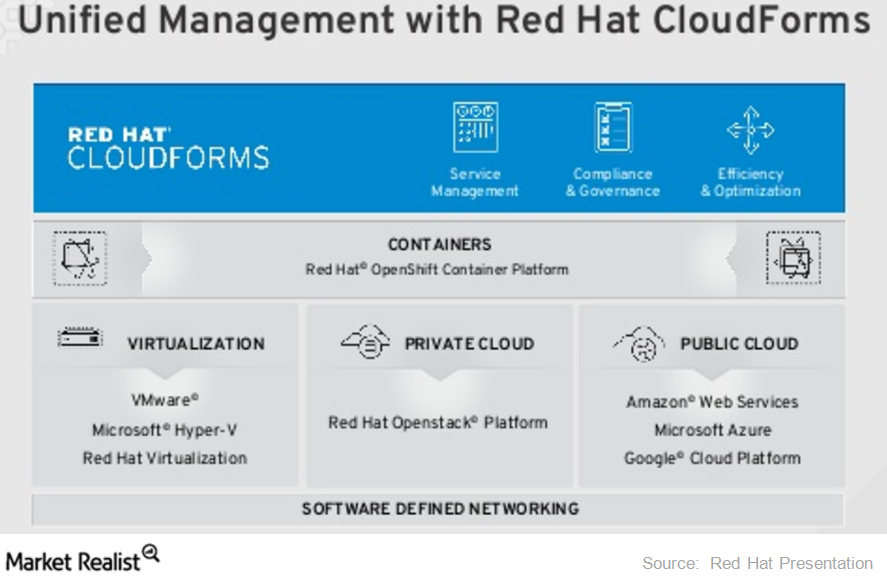 Why Red Hat Is Partnering with Microsoft
By Anne Shields

Oct. 4 2017, Updated 7:40 a.m. ET
Red Hat and Microsoft extend partnership
Earlier in the series, we discussed how Red Hat (RHT) is poised to benefit from its dominance in Linux to push OpenStack. In the past, Red Hat partnered with Microsoft (MSFT) to distribute Linux OS for RHEL (Red Hat Enterprise Linux).
In its fiscal 2Q18 earnings, Red Hat highlighted this partnership and its expansion, saying that it will provide more flexibility to enterprise customers. Red Hat stated, "First is our recent announcement with Microsoft that expands our alliance, with plans for new initiatives aimed at enabling enterprises to more easily adopt containers." Announced last month, this extended partnership includes "native support for Windows Server containers on OpenShift, OpenShift Dedicated on Microsoft Azure and SQL Server on both RHEL and OpenShift."

Article continues below advertisement
In regards to how this deal renders IT flexibility to companies, Mike Ferris, vice president of cloud strategy at Red Hat, said, "Now we're talking more aggressively around containers and the initiatives we're talking about today will make it easier for customers to build and deploy containers, especially as they're leveraging both Microsoft cloud and Red Hat platforms together." He added, "regardless of whether you're a Windows-based environment or you're a Red Hat Enterprise Linux-based environment, you can use both of those together."
In early 2018, fully managed OpenShift Dedicated service will be brought to Microsoft Azure. This support already exists for Amazon's (AMZN) AWS and Google (GOOG) Cloud Platform.
Increased adoption of container technology
The Red Hat-Microsoft partnership will enable enterprise customers to make a smoother transition to containers. According to Cloud Native Computing Foundation, "71 percent of the Fortune 100 use containers and more than 50 percent of Fortune 100 companies use Kubernetes as their container orchestration platform." Earlier this month, Oracle (ORCL) joined the Cloud Native Computing Foundation as a platinum member. This foundation integrates open source technologies like Prometheus and Kubernetes.
Kubernetes, a container technology developed by Google (GOOG), is rapidly gaining traction. Prometheus tools monitor the performance of containers after they are deployed.