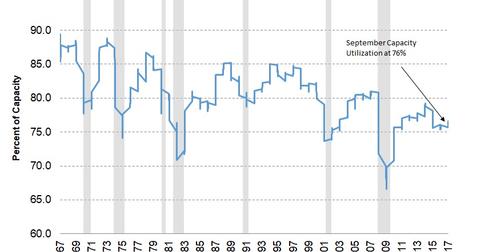 Why Investors Should Track Capacity Utilization
By Ricky Cove

Updated
Capacity utilization and the US economy
Capacity utilization is one of the key macroeconomic indicators for any economy. This economic indicator gives insight into labor market demand, inflation (TIP), and consumption. In general, an increase in capacity utilization signals an increase in jobs and it could also lead to capital spending by industries where capacity utilization has peeked.
Capacity utilization is the output of a company as a percentage of the total potential output. In the US, the average capacity utilization for all industries between 1972 and 2016 is 79.9%. The figure changes for each industry. The manufacturing sector (XLI) has an average capacity utilization of 78.4%, while the mining (PICK) and utilities (XLU) average stands at 87% and 85.6%, respectively.
Article continues below advertisement
Capacity utilization in September
As per the Industrial Production and Capacity Utilization report published by the Federal Reserve, the total industry capacity utilization has risen to 76% in September as compared to 75.8% in August. The manufacturing sector's capacity utilization remained unchanged at 75.1% in September, while the mining and utilities sectors had a capacity utilization of 83.5% and 74.8%, respectively.
Why investors need to track this economic indicator
Capacity utilization and industrial production can give an idea about economic activity, and these indicators have an impact on inflation too. With the US Fed struggling to meet its inflation target but eager to bring the monetary policy and interest rates (BND) close to the long-term average, growth in capacity utilization and industrial production could boost the Fed's confidence that inflation could bounce back quickly.
This report shows that the US economy is continuing to expand but at a slow pace, and capacity utilization is still below the long-term average. A further increase in consumer spending and retail sales in the coming months could help boost these economic indicators.