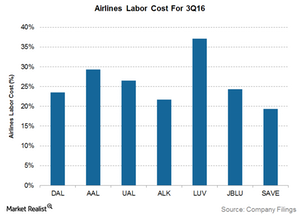 Why Are Airline Labor Costs Set to Rise?
By Ally Schmidt

Oct. 11 2020, Updated 11:50 a.m. ET
Labor, the second largest cost
When crude oil prices were at their peak at $100 per barrel, labor costs were an airline's second largest cost. Thanks to the substantial fall in fuel costs, labor is now the largest expense for any airline.
In fact, Southwest Airlines (LUV), which has the lowest margins, has the highest labor costs. In the third quarter of 2016, labor costs made up 37.0% of Southwest Airlines' revenue.
American Airlines (AAL) has the second lowest margins but the second highest labor costs. In 3Q16, labor costs accounted for 29.0% of AAL's revenues. United Continental has the third lowest margins and the third highest labor costs of 26.0%.
For 3Q16, JetBlue Airways' (JBLU) labor costs were 24.0% of its revenues. Delta Air Lines' labor costs were 23.0% of its revenues, Alaska Air's (ALK) were 22.0%, and Spirit Airlines' (SAVE) were 19.0%.
Article continues below advertisement
Other costs
Spirit Airlines' labor costs are lower than Alaska Air's. But Spirit Airlines has lower margins than Alaska Air. That's because aircraft rent accounts for just 2.0% of Alaska Air's revenue, while aircraft rent for Spirit Airlines is 8.0% of its revenue. For all the others, this cost is 1.0%–2.0% of their revenues.
Aircraft maintenance makes up 4.0%–5.0% of revenues for all airlines except JBLU at 9.0%. Landing fees and other rents account for 6.0% of revenues for all airlines except Delta, which is at 4.0%.
Labor costs to rise
Most airlines, including Delta Air Lines (DAL), Southwest Airlines (LUV), United Continental (UAL), and American Airlines (AAL), have recently renegotiated contracts with pilots and other contract workers. According to the contracts, pilots will receive a good pay raise over the next two years, followed by decent pay increases for two to three years after that. That means peace on the labor front for at least the next few years. That's good news for both the airlines and its workers, especially for Southwest Airlines, which has been struggling to reach an agreement with its pilots for the past four years.
Another factor driving profitability southward is leverage, which we'll look at in the next part. You can get exposure to travel stocks by investing in the iShares Transportation Average ETF (IYT), which invests 22.0% of its portfolio in airlines.