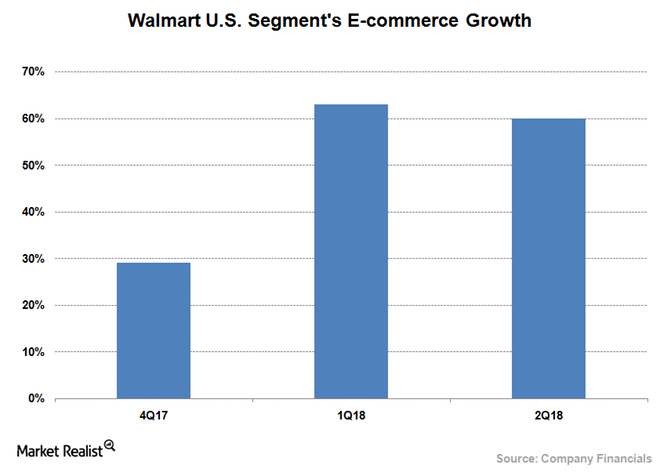 Walmart Acquires Parcel: Another Potential Blow to Amazon
By Amit Singh

Oct. 3 2017, Updated 12:46 p.m. ET
Why it's a strategic fit
As shoppers increasingly turn toward online shopping for ease and convenience, Wal-Mart Stores (WMT) is pulling no punches in driving them to its website, and we've been seeing the results in its bulging online sales in the US (SPY). Walmart has not shied away from making large upfront investments to strengthen its digital business and offer customer-friendly services.
In a recent announcement, Walmart stated that it has acquired Parcel, a New York-based delivery startup, for an undisclosed amount.
Article continues below advertisement
Parcel specializes in last-mile shipping and offers same-day, overnight, and scheduled two-hour deliveries in New York City, with capabilities to deliver both perishable and non-perishable items. Notably, Parcel has delivered more than 1 million meals in the past two years and has customers ranging from grocery stores, meal kits, and e-commerce companies.
As quick and fast delivery, low prices, and vast assortments take center stage to bring in customers, Walmart's acquisition of Parcel looks to be another strategic addition aimed at strengthening its digital capabilities to compete with Amazon.com (AMZN), Target (TGT), and Costco Wholesale (COST).
From a demographic point of view, New York City has great strategic value to both Walmart and Jet.com because it's one of the most densely populated areas in the US and represents a key market. The region also has proximity to fulfillment centers.
Notably, Parcel's acquisition will likely not only reduce the delivery timing significantly but also reduce last-mile shipping costs. Walmart also announced that Parcel would continue to dole out services to existing customers, which are growing at a rapid rate, which adds another revenue stream for Walmart.
Walmart's recent delivery initiatives
In a short period of time, Walmart has taken several initiatives to ramp up its delivery process, which includes the recently announced in-fridge delivery, delivery through associates and Uber, and order dispensers or pickup towers—in addition to its two-day free shipping and pickup discounts.
All these consumer-friendly initiatives work well for customers and are resulting in higher sales at Walmart's US segment, despite the stiff competition it's been getting from Amazon and deep discounters like Lidl and Aldi.