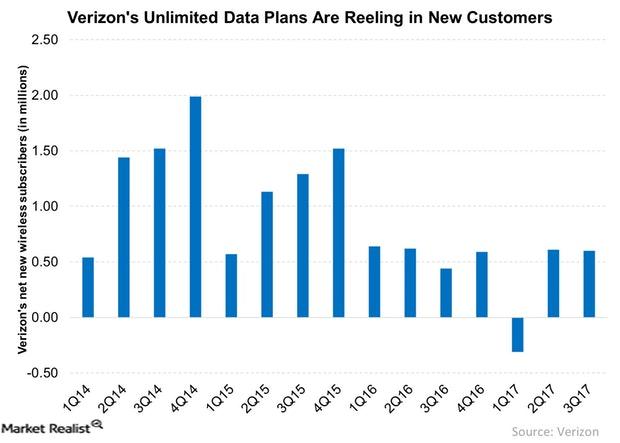 Verizon's Strategy to Win Back Customers
Verizon beats revenue estimates
Telecom giant Verizon (VZ) reported its fiscal 3Q17 numbers on Thursday, October 19. Verizon's earnings were in line with estimates, and it beat revenue expectations. The carrier posted earnings per share of $0.98 and a net profit of $3.6 billion, flat with its 3Q16 figures. The company generated revenue of $31.7 billion in 3Q17, against analysts' estimate of $31.4 billion, and a 2.5% rise from 3Q16. However, excluding some items, such as divestitures and acquisitions, revenue fell 2.3% year-over-year.
America's biggest carrier aims to reel in customers with unlimited data plans. The company started offering unlimited data plans again earlier this year, like competitors T-Mobile (TMUS) and Sprint (S), which seem to have lured back customers.
Article continues below advertisement
Verizon's unlimited data strategy is winning customers back
As the graph above shows, the company lost some wireless subscribers back in fiscal 1Q17 but gained them again in the next two quarters. The company gained 603,000 wireless subscribers in fiscal 3Q17, nearly twice as many as analysts expected.
The carrier now has 115.3 million wireless retail connections, a 1.4% rise from fiscal 3Q16. The company expects more additions in the current quarter via subsidized plans through partnerships with smartphone makers such as Apple (AAPL) and Alphabet (GOOG).
Verizon is also moving into digital ads through its acquisition of Yahoo. The company's stock gained 1.2% on Thursday, but is down 7% year-to-date.