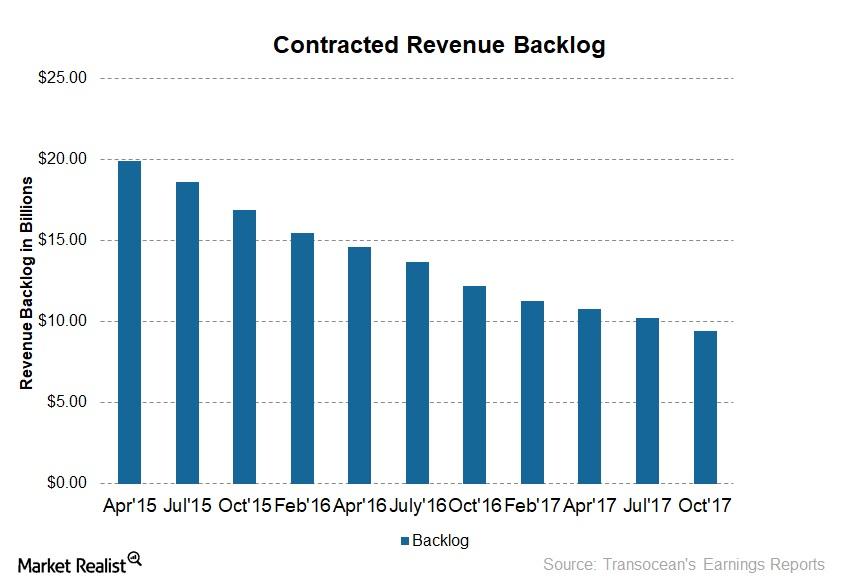 Updates from Transocean's Latest Fleet Status Report
Fleet report
On October 26, 2017, Transocean (RIG) published its quarterly fleet status report. The report had updates than the two-year contract it announced earlier in the month.
On October 17, 2017, Transocean announced a two-year contract it secured for its ultra-deepwater drillship—Deepwater Invictus. The backlog associated with the contract is $106 million. It's expected to commence in 2Q18.
Article continues below advertisement
Backlog
As of October 26, 2017, Transocean has a backlog of $9.4 billion—lower than $10.2 billion recorded in July and $10.8 billion recorded in April 2017.
Fleet status update
The following are the latest contracts secured by Transocean:
Transocean's semi-submersible, Deepwater Nautilus, secured a four-well contract. The contract will commence in November 2017 and will continue up to March 2018.
The semi-submersible, Paul B Loyd, Jr., secured two contracts—one with Hurricane Energy from March 2018 to May 2018 and another with Zennor Petroleum from May 2018 to October 2018.
Deepwater Pontus started a job with Shell (RDS.A), which will continue until October 2027. Transocean's another newbuild, Deepwater Poseidon, will commence its contract with Shell in 1Q18 and will be contracted to 1Q28.
There was some other news in the fleet report as well:
Chevron (CVX) terminated one of its contracts with Transocean. The contract on the Dhirubhai Deepwater KG2 ended before its schedule. Transocean decided to upgrade two of its rigs.