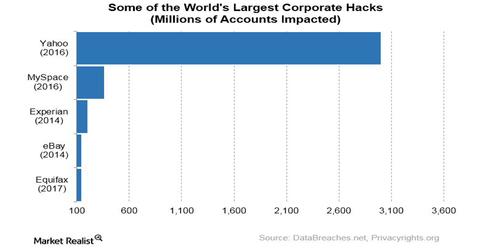 Symantec: Prospects Brighten for a $3 Billion Market
By Ruchi Gupta

Updated
Massive data breach on Equifax's system
The subset of the cybersecurity market that deals in identity-theft protection could see more rapid growth than initially anticipated due to high-profile data breaches that have been reported recently. 
In early September, consumer credit reporting agency Equifax (EFX) disclosed hacks on its system that it said may have exposed information belonging to more than 143 million Americans.
Predictably, attention turned quickly to security vendors such as Symantec (SYMC), Proofpoint (PFPT), Imperva (IMPV), and FireEye (FEYE) as their stock prices rose following the disclosure of the massive Equifax hack.
Article continues below advertisement
Need for identity protection
The proliferation of the Internet into the financial services sector and the growing use of mobile phones in financial transactions have put increasing amounts of sensitive personal and business data at risk. This trend has increased the need for identity-theft protection in different sectors.
The Equifax hack came only a few months after Yahoo, which is now part of Verizon (VZ), disclosed a serious breach that impacted 3.0 billion user accounts.
Research firm IBISWorld forecast that the identity-theft protection market would generate $2.8 billion in revenues this year. With the growing cyberthreats, as evidenced by high-profile breaches like the attacks on Equifax, Anthem (ANTM), and Yahoo, the identity-theft protection market could see more rapid growth in the coming years than may have been expected.
Beneficiary of identity-theft crisis
Symantec is one of the security companies that could benefit from the growth of the identity-theft protection market. Demand for Symantec's identity protection service, LifeLock, increased dramatically in the wake of the news that Equifax's system had been hacked and millions of customer accounts were compromised.
In addition to the sudden demand for identity-theft protection, improving economic fundamentals, such as improving consumer incomes, could also lead more people to purchase identity-theft protection for the first time.