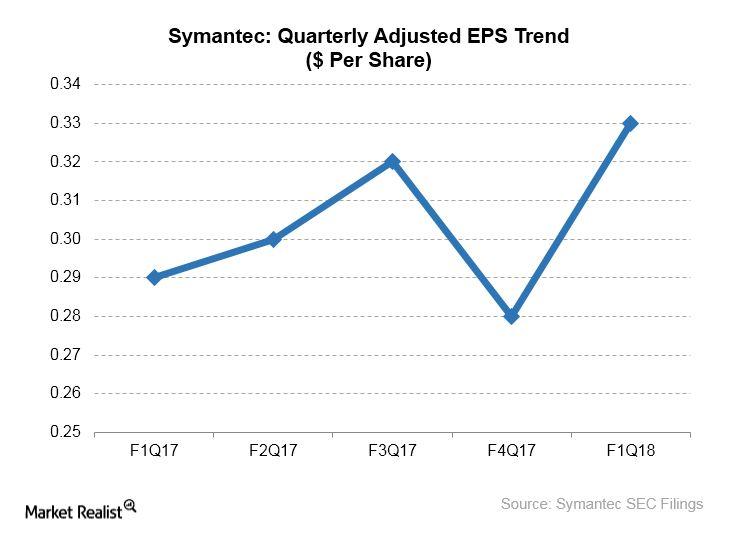 Symantec: LifeLock Drawing Young Customers
By Ruchi Gupta

Oct. 9 2017, Updated 7:41 a.m. ET
LifeLock signups up tenfold
In the wake of the wide-ranging Equifax (EFX) data breach, Symantec (SYMC) saw a sharp increase in demand for its identity-theft protection service, LifeLock. Following the Equifax hack, Symantec said that LifeLock's hourly signups increased tenfold compared to before the incident.
Not only did the panic following the Equifax hack draw more customers to LifeLock, but it also increased the appetite for the identity protection service's premium plan.
Article continues below advertisement
Uptake of premium plan
According to Symantec executive Fran Rosch, most of the new customers signing up for LifeLock in the wake of the Equifax incident chose the plan that costs $29.99 per month over the discount plan, which costs $9.99 per month.
Strong uptake of the premium LifeLock plan could result in a favorable bottom-line outcome for Symantec when the company reports its next earnings. For fiscal 1Q18 (June quarter), Symantec posted adjusted EPS (earnings per share) of $0.33, up from $0.29 in fiscal 1Q17. In the chart above, we can see how Symantec's quarterly EPS has trended over the last few quarters.
Symantec winning over coveted customer demographic
Interestingly, Rosch also said that the Equifax effect was also drawing younger customers to Symantec. New customers signing up for LifeLock in the wake of the Equifax breach were on the average ten years younger than a typical user of the service.
Young customers are a coveted demographic, as they are a significant influence on a company's sales and revenues. For Symantec, a company facing competition from FireEye (FEYE), Cisco Systems (CSCO), Proofpoint (PFPT), and Check Point Software Technologies (CHKP), signing up younger customers bodes well for its prospects. 
In their June/July quarters, FireEye, Proofpoint, and Check Point Software Technologies registered year-over-year top-line growth of at least 6.0%, while Cisco Systems' top line declined 4.0%.