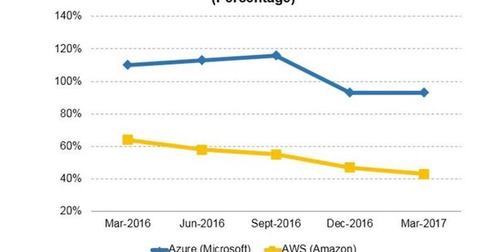 Microsoft's Valuation Reaches $600 Billion after 17 Years
By Sanmit Amin

Oct. 27 2017, Published 5:26 a.m. ET
Microsoft's market cap breached the $600 billion mark
Microsoft's (MSFT) market cap has finally come back to the peak of the dot-com bubble in December 1999. Microsoft has more than 7.8 billion outstanding shares at $76.80 per share, which takes its valuation to $600.0 billion, the level of the dot-com bubble.
The amount takes its market cap to more than $615.0 billion. The company's shares have risen 26.8% YTD (year-to-date) and 324.0% since the bottom of the financial crisis.
Article continues below advertisement
Microsoft's valuation not at dot-com bubble levels
Microsoft is one of three American companies with a market cap of $600.0 billion or above. Apple (AAPL) is far ahead of the pack with a market cap of $800.0 billion, while Google parent Alphabet (GOOG) (GOOGL) has a market cap of $700.0 billion. Facebook (FB) and Amazon (AMZN) have market caps of more than $500.0 billion.
All blue-chip technology stocks have soared since hitting bottom after the dot-com bubble. Tech (technology) stocks have had a stellar run this year as well. Some investors are beginning to worry, though, about the valuations for these stocks. Microsoft is trading at 22.8x forward earnings. It was trading at 60.0x forward earnings during the peak of the tech bubble.
As Microsoft's main software business matures, the company has been banking on Azure, its cloud computing segment, to drive growth. While it's behind Amazon's (AMZN) AWS (Amazon Web Services) in the cloud-computing business, Azure is growing, as the above graph suggests.