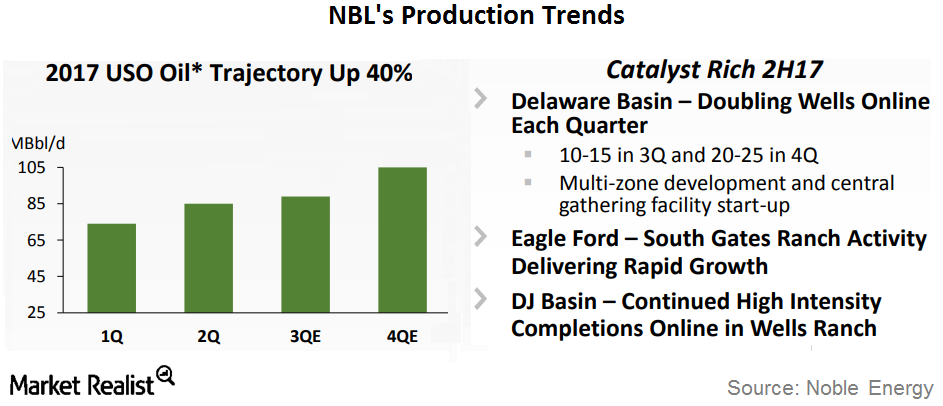 Inside Noble Energy's Production Goal for 2017
By Keisha Bandz

Oct. 19 2017, Updated 3:45 p.m. ET
Production guidance
Noble Energy's (NBL) 3Q17 volumes are expected to range between 352 Mboepd–358 Mboepd (thousand barrels of oil equivalent per day). NBL's 3Q17 production guidance was recently raised from its previous guidance of 340 Mboepd–350 Mboepd provided in 2Q17.
This increase in guidance was due to better-than-expected DJ Basin volumes due to strong new well performance and rising oil contribution. That said, NBL's 3Q17 production volumes are 16.5% lower than its 3Q16 volumes, at the midpoint, and 13% lower than its 2Q17 volumes.
The company's total oil volumes are expected to range between 126 Mbpd–130 Mbpd (thousand barrels per day). Total oil volumes in 3Q17 are expected to rise 4% on a YoY (year-over-year) basis and fall ~4.5% on a sequential basis.
As a result of its increased 3Q17 guidance, NBL revised its full-year production guidance range up to 342 Mboepd–352 Mboepd from the previous range of 340 Mboepd–350 Mboepd.
Article continues below advertisement
Focus on US onshore volumes
Noble Energy has been focusing on developing its US onshore resources where it operates in three key areas—the Delaware Basin, the DJ Basin, and the Eagle Ford region. The company is expecting a 40% increase in its US onshore oil growth volumes between 1Q17 and 4Q17.
In a press release on September 25, 2017, NBL noted that total US onshore volumes were trending slightly above the high end of its guidance range, and both oil and natural gas volumes were above the high end. NGLs (natural gas liquids) were slightly below the original range of its guidance.
NBL's management noted in its 3Q17 earnings conference, "Our analysis, further supported by independent third party reporting, shows our well results in each of our onshore areas are industry-leading. These enhanced well results are a major driver of the capital efficiency improvement ongoing in our portfolio."