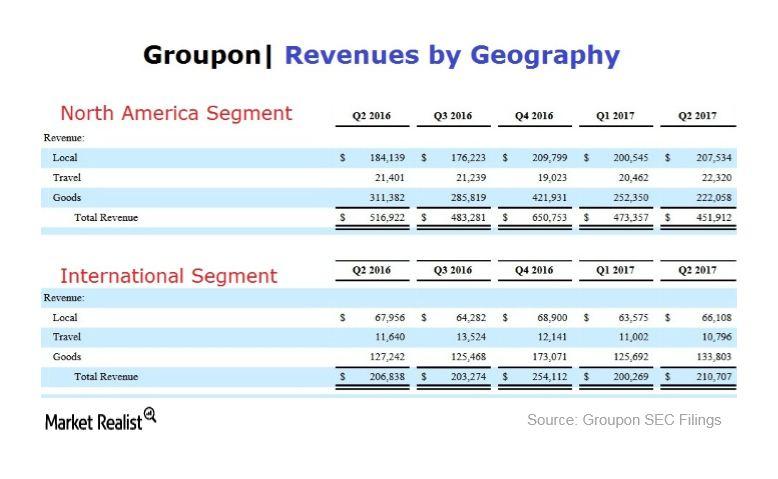 Inside Groupon's Groupon+
By Neha Gupta

Oct. 4 2017, Updated 10:40 a.m. ET
Saving 30% on restaurant meals
Groupon (GRPN) recently launched a couponless restaurant rewards program called Groupon+ (Groupon Plus). Groupon+ deals carry generous discounts given that a customer can save up to 30% on restaurant purchases. Groupon+ rolled out in 23 markets in the US (SPY) initially, with more than 1,500 participating restaurants.
Groupon launched Groupon+ in partnership with payment card companies Visa (V) and Mastercard (MA). To qualify for Groupon+ deals, customers would enroll their Visa or Mastercard payment cards (credit or debit card). Groupon+ discounts are unlocked whenever a customer pays for a restaurant meal using the enrolled card.
Article continues below advertisement
Data-driven move
One of the important points to note here is that Groupon's decision to launch Groupon+ was guided by strong data evidence. Groupon conducted a survey that showed that nearly 80% of people would take advantage of a discount on a date. As such, Groupon+ could be particularly interesting to couples on a date.
Groupon's survey also revealed that 50% of people who said they wouldn't use a discount on a date said they would change their mind if the discount were delivered discreetly. In this case, Groupon+ fits the bill because there is no handling of paper coupons or handing over your smartphone for the restaurant to verify that you qualify for a discount meal.
Boost to North America business
The move with Groupon+ could go a long way into strengthening Groupon's North America business. As the chart above shows, Groupon depends on North America for the majority of its revenues. 
Groupon recently hired a new executive for its North America Local business, a move viewed as a way to bolster its competition with Amazon, Yelp, and Facebook in the local marketplace and local advertising space.