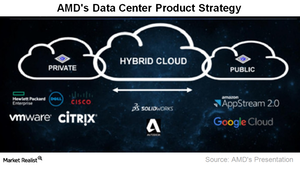 Cloud Companies Increasingly Adopt AMD's Radeon Instinct GPUs
By Puja Tayal

Updated
AMD's Radeon Instinct GPUs
Advanced Micro Devices (AMD) is betting big on data center by bringing both CPU (central processing unit) and GPU (graphics processing units) offerings. The company started shipping its Radeon Instinct GPUs in 2Q17. The Instinct GPU portfolio comprises Vega-based MI25, Fiji-based MI8, and Polaris-based MI6 that supports heterogeneous computing.
AMD has invested in open-source software ROCm (Radeon Open Compute), which supports MIOpen 1.0, an open-source GPU-accelerated library. Radeon GPUs also support popular open-source machine learning frameworks such as Facebook's (FB) Caffe, Google's (GOOG) TensorFlow, and Torch.
Article continues below advertisement
AMD–Baidu partnership
In August 2017, AMD partnered with China's (FXI) search engine giant Baidu (BIDU) to deliver high-performance GPUs and CPUs to handle the next-generation datacenter workloads. Rival NVIDIA (NVDA) also partnered with Baidu in July 2017, but this partnership extends beyond cloud computing and into autonomous driving, open-source deep learning optimization, and a virtual assistant in NVIDIA Shield TV.
According to a Forbes article, Chinese companies are the second-largest investors in AI (artificial intelligence) after United States companies. In 2016, Baidu spent up to $30 billion on AI projects. 
China is expected to increase its spending in several AI projects such as smart home appliances, smart cars, drones, robots, and wearables. A partnership with Baidu would help AMD penetrate in China and benefit from their AI investments.
AMD–Amazon partnership
AMD has also secured a design win from Amazon Web Services (AMZN). AWS would use AMD FirePro S7150x2 Server GPUs to power its new Appstream 2.0 Graphic Design instances. The graphics design instance allows users to stream graphics applications in the cloud. Amazon is using AMD Radeon Pro MxGPU (multiuser GPU) to allow up to 16 users to run graphics software in the cloud simultaneously.
With this service, Amazon is giving designers workstation-like performance in the cloud at an affordable rate of $2.40 per hour for a 16 vGPU Graphic Design instance. This service would give budget-constrained engineering firms access to high-end workstations, eliminating the need to invest in hardware.
The CIC (CAD-in-the-Cloud) market presents strong growth potential for AMD as increasing adoption of this service would drive demand for more server GPUs among cloud customers. The CiC market is at a nascent stage with 23% of involved industries implementing or planning to implement CiC in their workflow, according to data from Jon Peddie Research.
The above products are built on 14nm (nanometer) node. AMD now plans to transition to 12nm node in order to stay competitive. We will look into this in the next part.