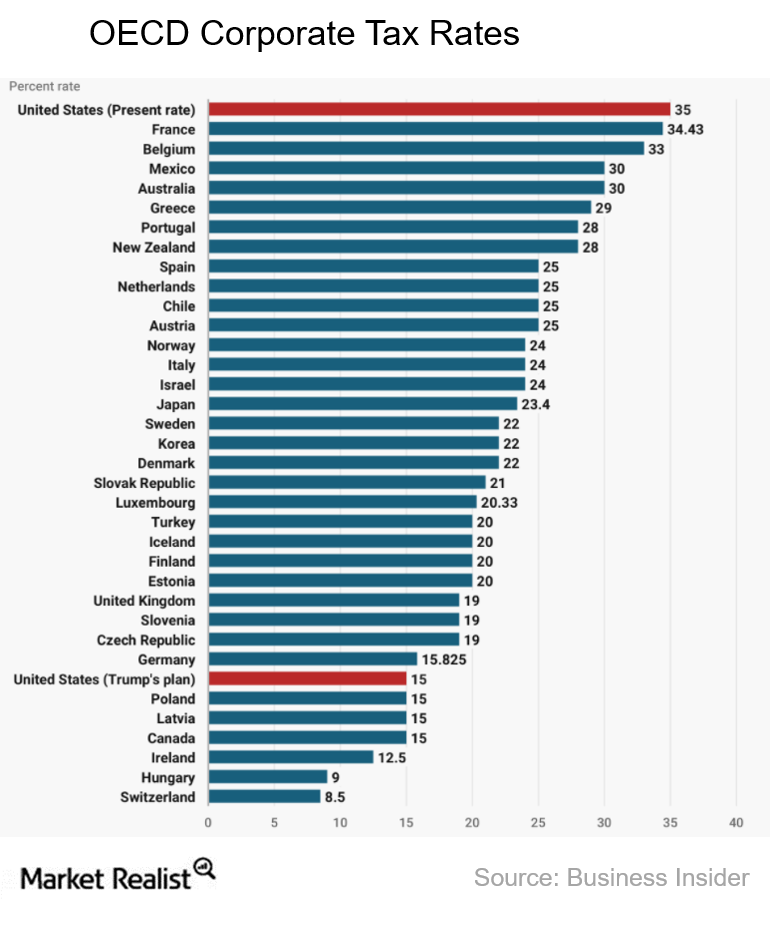 A Look at Trump's Proposed Tax Reforms
By Sonya Bells

Dec. 4 2020, Updated 10:52 a.m. ET
A look at Trump's proposed tax reforms
President Donald Trump recently unveiled an ambitious tax-reform plan that offers sweeping cuts in individual and corporate tax rates. One of the centerpieces of the proposal is the reduction in the corporate tax rate from the current 35% level to ~20%. The United States currently has the highest corporate taxes among the OECD[1. Organisation for Economic Cooperation and Development] countries.
Article continues below advertisement
What else does the plan offer?
The plan also proposes lowering the tax rate of pass-through businesses to 25%. Pass-through businesses don't pay taxes in the capacity of a company. Instead, they pay taxes as owners. The highest tax bracket for such businesses is currently close to 40%.
The proposed plan also reduces the number of personal tax brackets to just three from the previous seven. During an event in Indiana at the end of September, Trump noted, "The vast majority of families will be able to file their taxes on a single sheet of paper."
The tax blueprint did not include the controversial border adjustment tax that would impose a special duty on imported goods. This tax was widely criticized by several retailers, including Walmart (WMT) and Nike (NKE). However, imposing the border adjustment tax would have raised $1.1 trillion over the next ten years.
Series overview
In this series, we'll discuss the response of retailers to Trump's proposal. In the last two parts of the series, we'll identify the retail companies that benefit most from the proposed tax plan.