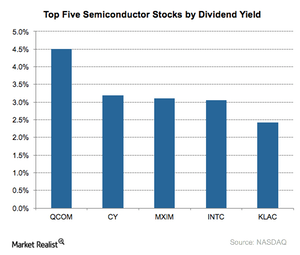 Your Top 5 Semiconductor Stocks by Dividend Yield
By Puja Tayal

Sep. 18 2017, Updated 9:11 a.m. ET
Dividend yield
Dividend stocks are preferred by investors who are looking for a stable stream of cash flow from investments. But dividends come at the cost of a stock's growth potential, because a company can use that cash to reinvest in its businesses in order to boost growth.
Article continues below advertisement
The top semiconductor stocks by dividend yield
As of September 12, 2017, Qualcomm (QCOM) had the largest annualized dividend yield of 4.5%, followed by Cypress Semiconductor (CY) at 3.2%, Maxim Integrated (MXIM) at 3.1%, Intel (INTC) at 3.05%, and KLA-Tencor (KLAC) at ~2.4%.
In dollar terms, KLAC had the highest annualized dividend of $2.36 because it had the highest stock price of over $96.0. In the past year, all these stocks (except KLAC) have delivered lower capital returns than the semiconductor industry average.
Qualcomm
Qualcomm has been growing its dividend every year for the past ten years and earns steady cash flows from its licensing business. It's now using its $30 billion cash reserves to acquire NXP Semiconductors, but this acquisition is unlikely to impact Qualcomm's dividend growth strategy.
Article continues below advertisement
Cypress
Cypress has maintained its annualized dividend at $0.44 since 2012, as it has been investing its cash in mergers and acquisitions. It acquired Spansion in 2015 and Broadcom's (AVGO) wireless IoT (Internet of Things) connectivity business in 2016. Broadcom's current priority is to reduce its leverage, and so dividend growth is unlikely in the short term.
Intel
Intel has been increasing its dividend, but growth has not been steady, as the company's first priority is to invest in its businesses. The company has strong cash flows, and it spends over $20 billion on research and development and ~$10 billion on capital expenditure. Intel's stock price has been hovering around $33 to $38 since the start of 2017.
Maxim and KLA-Tencor
Maxim Integrated and KLA-Tencor have been growing their dividends every year for the past seven years and expect to continue this trend going forward.