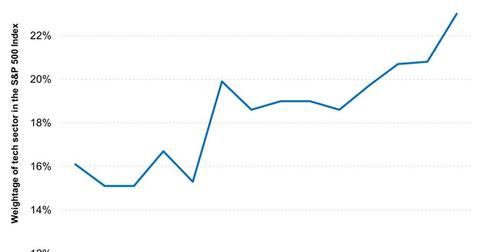 Why Tech Stocks like Apple Are Trending Low
By Sanmit Amin

Updated
Tech stocks have been falling for the past week
Technology stocks have had a stellar run so far this year, with the tech-heavy NASDAQ Composite Index (QQQ) climbing 18.5% in 2017, while the broader market as tracked by the S&P 500 Index has risen 11.5% over the same period.
However, between September 19 and September 26, the NASDAQ Composite Index fell 1.3%. Technology stocks have dragged broader markets down with it, with the S&P 500 Index falling 0.4% in the same period.
While some overall industry news has affected the recent trend in stocks like Apple (AAPL), Netflix (NFLX), and Facebook (FB), these stocks seem to have taken other technology stocks and the broader markets down along with them.
Article continues below advertisement
Why tech stocks take broader markets with them
The technology sector has come to represent increased weight in the S&P 500 Index (SPY), with tech stocks now making up ~23% of the index. Apple, Microsoft (MSFT), Facebook, Amazon.com (AMZN), and Alphabet (GOOG), alone make up over 12% of the index today.
Any big moves in these stocks are thus likely to affect the S&P 500 Index. For example, Netflix and Facebook both fell ~4% on Monday, while Apple has plunged 8% so far in September.
The large gains in the sector in 2017 may be a sign of unwarranted risk-taking by investors, and this could mean that a big reversal is just around the corner. Apple and Facebook have seen multiple expansions due to big expectations, but if the iPhone X fails to please when it hits stores on November 3, Apple stock could see a further downside and take other tech stocks and broader markets down with it.