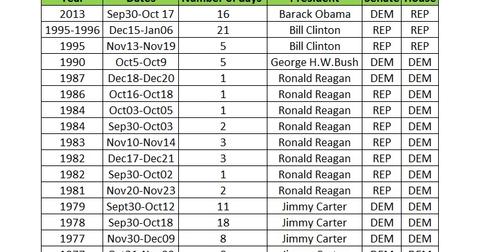 The US Debt Crisis and the Specter of a Government Shutdown
By Ricky Cove

Updated
The deadline is getting closer
The deadline to raise the US debt limit is getting closer, and both sides of the US Congress are likely to lock horns in the coming weeks. Although the latest date that the US debt ceiling can be raised is September 29, there is usually a two-week extension to allow both sides to come to an agreement. So, mid-October is typically the drop-dead date before a formal shutdown of the US government occurs.
Article continues below advertisement
What could happen in September
From past experiences surrounding a debt-ceiling crisis, these negotiations usually go to the wire. This scenario could keep investors on edge for the entire month.
A possible US government shutdown could be seen as catastrophic for the global markets (SPY). Last week, rating agency Standard & Poors warned of a US debt (GOVT) rating downgrade if the debt ceiling limit is not raised.
The agency said that the fallout from such a downgrade would be larger than that of the collapse of Lehman Brothers in 2007–2008. There could be a lot of volatility (VXX) in the bond, currency (UUP), and equity markets if such an event were to occur.
Could there be a US government shutdown?
As shown in the chart above, there have been several US government shutdowns that have lasted a few days to a few weeks. It's tough to predict politics, and we don't know how President Trump would react in such a situation. Although the chances of a US government shutdown are slim, investors in equity markets (QQQ) could remain on the sidelines until the dust settles.
For more information about the US debt crisis and its impact on the markets, please read The Current US Debt Ceiling in a Nutshell.
In the next part of this series, we'll discuss the risks related to the central bankers in September.