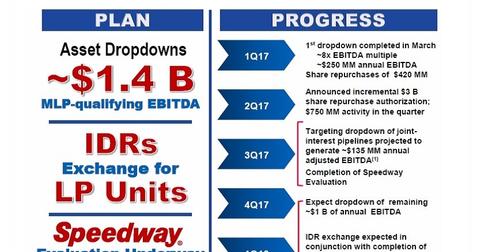 Marathon Petroleum's Strategic Path: Drops Down Assets to MPLX
By Maitali Ramkumar

Sep. 6 2017, Published 11:26 a.m. ET
MPC drops down assets to MPLX
Marathon Petroleum (MPC) has executed the second tranche of assets drop-down to its midstream MLP, MPLX (MPLX), after the announcement of its strategic plan. This drop-down is part of MPC's strategic plan it unveiled in January 2017. Let's have a look at the details.
MPC has dropped down its joint ownership in some pipelines and storage facilities to MPLX. These assets are estimated to generate $138.0 million of annual EBITDA (earnings before interest, tax, depreciation, and amortization) in 2018. The assets were valued at ~$1.1 billion, which was funded through equity and cash. The cash component was $420.0 million.
Article continues below advertisement
Management's word on the drop-down
On the current drop-down event, MPC's chair and CEO (chief executive officer) Gary R. Heminger stated, "This dropdown of joint-interest ownership will add further scale and diversity to MPLX and represents the latest step in our strategic plan, which is designed to create long-term value for our investors."
MPC moves a step forward on its strategic path
In January, Marathon Petroleum revealed a plan of action to strengthen MPLX, separate its marketing segment (or Speedway), and exchange IDRs (incentive distribution rights) for LP (limited partnership) shares. This plan was unveiled right after Elliott Management's (one of MPC's largest shareholders) suggestion in an open letter to MPC in November 2016.
MPC had planned to drop down midstream assets representing around $1.4 billion of annual EBITDA to MPLX. Assets representing around $250.0 million of EBITDA were dropped down in 1Q17, and about $135.0 million is being dropped down in 3Q17. About $1.0 billion is expected to be dropped down between 4Q17 and 1Q18. MPC also expects to complete the evaluation of a tax-free separation of Speedway in the current quarter. We should hear about that soon. The last step would be the IDR exchange, which is likely to be completed by 1Q18.
Article continues below advertisement
Series overview
In this series, we'll review Marathon Petroleum's current position. In the next few parts, we'll evaluate MPC stock, moving average crossovers, and the price forecast range based on implied volatility. We'll look at Wall Street analysts' ratings and their estimates for the next dividend payment. Then we'll see which institutions are buying MPC and where the stock stands regarding forward valuations compared to its peers.
We'll also evaluate MPC's financial position and operational performance. We'll review the company's leverage and cash flow position. Later, we'll look at its capex (capital expenditure) and segmental performance by analyzing its earnings model, refining yields, refining margin trend, marketing, and midstream segment performance. We'll also look at the likely direction of its refining earnings in 3Q17.