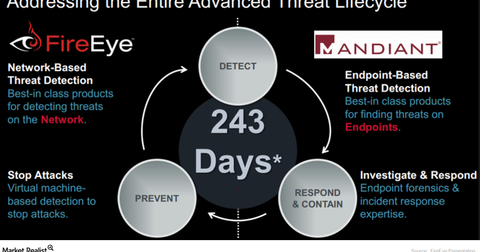 How FireEye Could Benefit from the Equifax Data Breach
By Anne Shields

Oct. 3 2017, Updated 9:39 a.m. ET
FireEye's Mandiant incident response offerings to get a boost
After the recent security breach, Equifax (EFX) called FireEye's (FEYE) Mandiant incident response team to investigate. Incident response companies like Mandiant review logs and check out the data servers of affected companies for evidence of a compromise.
Apart from incident response, threat intelligence, and end-point security offerings, Mandiant has other specialties. Mandiant enables companies to respond in the immediate aftermath of a cybersecurity attack by securing networks and averting further data loss.
Early this year, FireEye shared a report that showed that a breached organization, on average, takes 100 days to discover that its servers have been compromised. However, Equifax took 141 days to discover its breach and has drawn criticism for its incident response.
Article continues below advertisement
Product subscription set to surge
Mandiant's involvement in the largest breach of the year is expected to be a positive news for FireEye. According to a Deloitte's research on cyberattacks, an incident-response engagement usually leads to a surge in product sales afterward.
Product subscriptions, which contributed 44% to FireEye's overall revenues in fiscal 2017, dominates the company's revenue mix, followed by product sales, which contributed 21%. Support and maintenance and incident response each contributed 17% of overall revenues.
FireEye's product subscription segment is expected to expand its share of total revenues, given the industry's the company's shift toward subscription-based models and the increasing popularity of managed offerings.