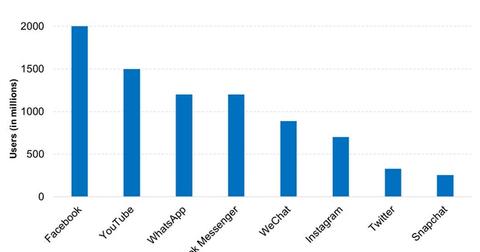 Here's How Facebook Intends to Profit from WhatsApp
By Sanmit Amin

Updated
WhatsApp to finally start making money
When Facebook (FB) paid a whopping $22 billion to buy WhatsApp, which makes no money, many industry watchers were surprised. However, Facebook could earn back some of that investment.
Facebook will monetize the messaging app by charging big companies for features to improve communication with customers, according to The Wall Street Journal. This monetization method differs from that of other Facebook apps, which use advertising.
According to The Wall Street Journal, companies from India, Brazil, Indonesia, and Europe have started testing the free services. The app's prototype features a green badge next to business contacts to indicate that they are verified by WhatsApp.
Article continues below advertisement
Why Facebook has been looking to monetize WhatsApp
Facebook has been looking for different avenues for profit as it is running out of space to post ads on its News Feed. The company recently monetized its Messenger app by including ads, and has been eager to add more videos.
Facebook-owned WhatsApp and Messenger constitute two of the most popular messaging apps, with over one billion monthly active users each, while Instagram is gaining popularity with over 400 million daily active users. Instagram Status, which is a clone of Snapchat (SNAP) Stories, has 250 million daily active users.