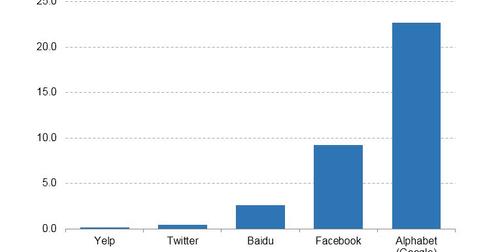 Google and Facebook: Top Internet Companies by Ad Sales
By Neha Gupta

Sep. 14 2017, Published 3:18 p.m. ET
Focus on Google, Facebook, Baidu, Twitter, and Yelp
Alphabet's (GOOGL) Google, Facebook (FB), Baidu (BIDU), Twitter (TWTR), and Yelp (YELP) are primarily funded by online advertising budgets. According to market intelligence firm eMarketer, global online advertising revenues will grow to $335 billion by 2020 from $194.6 billion in 2016.
The growth of the online advertising industry is fueled by factors such as marketers' attempt to connect with Millennials who are spending much of their time on the Internet. Cheap smartphones, improving Internet availability in emerging markets, and trends such as online shopping are other factors contributing to the rapid growth of the online advertising industry.
Article continues below advertisement
Alphabet extracts 86.9% of revenue from advertising sales
Among the top Internet companies that look to online advertising as their primary source of revenue, Google topped the chart in 2Q17. The company generated advertising revenue of $22.7 billion in the quarter, up from $19.1 billion a year earlier. Advertising sales accounted for 86.9% of Alphabet's overall revenue in the quarter.
Facebook generated $9.2 billion in advertising sales in 2Q17, representing 99% of its overall revenue in the quarter. Baidu, China's leading Internet search engine company, reported online marketing revenue, its equivalent of advertising sales, of $2.6 billion in 2Q17. Its overall revenue in the quarter was $3.1 billion.
Twitter's advertising sales were $489 million in 2Q17, accounting for more than 85% of the company's total revenue, while Yelp reported advertising sales of $186.6 million.
Other online advertising companies
Amazon, eBay, Alibaba, Groupon, and Zynga also earn a portion of their revenues from online advertising.