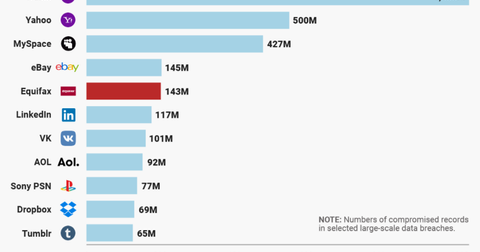 Gauging the Equifax Data Breach: The Worst in US History?
By Anne Shields

Oct. 3 2017, Updated 9:26 a.m. ET
Far worse than previous data breaches
The chart below shows the biggest hacks reported to date. The recent Equifax (EFX) hack might not be the biggest hack, but it's definitely expected to be worst in information and substance theft. Prior to this attack, the Target (TGT) credit card breach made news in 2013 and affected ~40 million customers.
The most recent Equifax attack is far worse than the Target Breach, according to Maura Healy, Massachusetts' Attorney General. Healy stated that "This is the most egregious data breach we have ever seen."

Massachusetts is one of the US states (QQQ) now suing Equifax on behalf of millions of customers whose data was compromised when data servers at Equifax were hacked earlier this year.
Article continues below advertisement
The UK and Canada?
The data breach disclosed by Equifax ranks among the largest-ever data breaches disclosed by a public company. Equifax also does business in Canada and the UK (EWU), and so there's a possibility that the nightmare for consumers in the US could spread to these geographies.
All these factors, of course, have weighed on Equifax stock, which has fallen by close to 26% in the past month. In the first week of September, after the breach was revealed, the company's stock fell below $100 for the first time since February 2016. However, it recovered soon and is now trading at $105 levels.