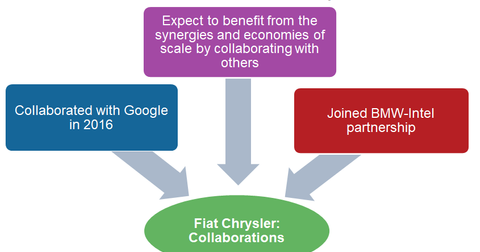 Fiat Chrysler Continues to Collaborate on Self-Driving Cars
By Jitendra Parashar

Updated
Fiat Chrysler collaborated with BMW and Intel
On August 16, 2017, the Italian-American automaker, Fiat Chrysler (FCAU), announced collaborations with a group of new partners to develop self-driving cars. FCAU signed a memorandum of understanding with BMW Group, Mobileye, and Intel (INTC), which would allow all these companies to work together to speed up its autonomous vehicle development program.
BMW Group was already working with tech giant Intel and Israel-based advanced driver assistance systems provider Mobileye since January 2016. Intel acquired Mobileye in March 2017 in a $15.3 billion deal.
Article continues below advertisement
Partnership with Google continues
In May 2016, Fiat Chrysler began to collaborate with Google (GOOGL) (GOOG). Under this collaboration, Fiat Chrysler agreed to produce about 100 Chrysler Pacifica hybrids to test Google's self-driving technology. It completed this production in December 2016. Also, FCAU and Google both agreed to co-locate their engineering teams to facilitate the design, testing, and manufacturing process.
Before these collaborations, Fiat Chrysler was behind its peers (XLY) like General Motors (GM) and Ford (F) in terms of innovation. While GM and Ford accelerated their plans to build mass-targeted electric vehicles, Fiat Chrysler was dependent on its collaboration with Google.
Fiat Chrysler (FCAU) has a bad reputation for having low margins compared to peers. Among its peer group, the company's margins are the lowest.
However, FCAU has seen a positive trend in its profitability for the last five quarters by improving manufacturing efficiency and reducing production costs. The company also seems to have understood the importance of innovation lately.
Importance of these collaborations
Fiat Chrysler's recent collaborations with other automakers and tech giants could prove to be an important step in the future. In a press release, Sergio Marchionne, FCAU's CEO, said that with these partnerships, the company is likely "to directly benefit from the synergies and economies of scale that are possible when companies come together with a common vision and objective."
Read on to the next part to learn how Ford is trying to speed up its autonomous vehicle development.