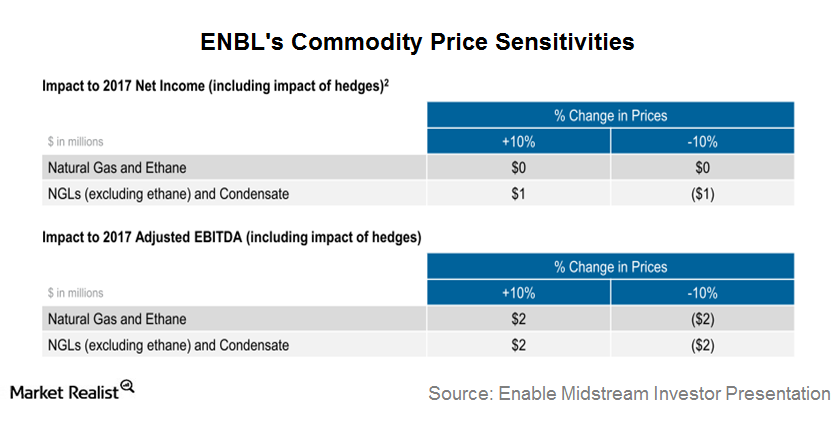 Enable Midstream's Commodity Price Sensitivities
By Kurt Gallon

Sep. 18 2017, Updated 7:38 a.m. ET
Enable Midstream's commodity price sensitivities
In this article, we'll look into Enable Midstream Partners' (ENBL) commodity price sensitivities and exposure. The partnership expects every 10% change in NGL (natural gas liquid) and condensate prices to affect its net income and adjusted EBITDA (earnings before interest, tax, depreciation, and amortization) by $1 million and $2 million in 2017, respectively. At the same time, every 10% change in natural gas and ethane prices is expected to affect the partnership's adjusted EBITDA by $2 million.
Article continues below advertisement
The partnership has 53% of its 2017 gross margin tied to firm and MVC (minimum volume commitment) fee-based contracts, 33% to other fee-based contracts, and 14% to commodities. Of this 14%, 9% is hedged. Overall, ~95% of ENBL's 2017 gross margin is either fee-based or hedged. ENBL has hedged 64%, 80%, and 67% of its natural gas, crude oil, and propane exposure for 2017, respectively. DCP Midstream (DCP), Energy Transfer Partners (ETP), and MPLX LP (MPLX) also have exposure to crude oil and NGL prices.
Commodity price outlook
Crude oil prices have been rallying recently due to large gasoline inventory draws following Hurricane Irma and Harvey. However, supply growth and inventory buildup remain a concern. According to the EIA's (U.S. Energy Information Administration) recent short-term energy report, US crude oil is expected to be $48.80 per barrel by the end of 2017. At the midpoint, ENBL's price assumption for crude oil ($48–$58 per day) is higher than the EIA's forecast. For more on crude oil prices, read OPEC Report: Could US Crude Oil Break above the $50 Mark?