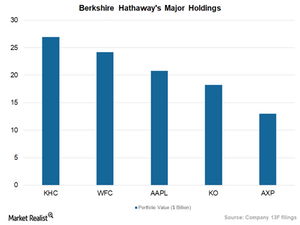 Berkshire Hathaway's Portfolio Built Up Expectations in 2H17
Major portfolio investments
According to its 13F filings, Berkshire Hathaway's (BRK.B) portfolio value was $162.0 billion in 2Q17 compared to $163.0 billion in the previous quarter. Berkshire deployed fresh capital in Synchrony Financial (SYF) and STORE Capital (STOR). The company increased its stake in Liberty Sirius XM (LSXMA) and Bank of New York Mellon (BK), with a capital of $500.0 million, and in General Motors (GM) with a capital of $350.0 million.
One of the investee companies, Synchrony Financial, is an offshoot of General Electric (GE). It's engaged in a private-label credit card business that went public in August 2014. STORE Capital is a middle-market net lease real estate investment trust.
Article continues below advertisement
Exits from GE, Wabco
Berkshire sold its entire stake of $300.0 million in General Electric (GE) and Wabco Holdings (WBC) in 2Q17. Berkshire's managers have continued to bet on Apple (AAPL) with higher stakes, a total valuation of $20.8 billion, forming the third-largest non-controlling investment. It has added the stock since 1Q16 within the price band of $93 and $122. The stock is currently trading at $152 and is expected to see a record holiday season with the introduction of the iPhone X. The investment could thus yield a higher return over the next one to two years.
Berkshire Hathaway's diversified holdings have resulted in low beta that's in line with the broader market (SPY), which could be less risky for long-term investments. In its investment portfolio, the top five companies account for almost two-thirds of its total portfolio value.