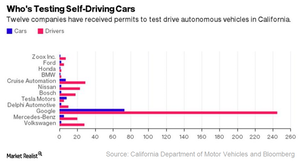 Are Rumors about AMD-Tesla Automotive Partnership True?
By Puja Tayal

Sep. 28 2017, Updated 5:36 p.m. ET
News of AMD and Tesla automotive partnership surprises market
Advanced Micro Devices (AMD) stock is highly volatile and reacts aggressively to news. Recently, there was a lot of movement in AMD with its daily trading volume rising from around 7 billion at the start of September 2017 to around 14 billion in the last one week.
This momentum was fueled by a CNBC report published on September 20, 2017, which cited a source stating that AMD is working with Tesla (TSLA) to develop an AI (artificial intelligence) chip for an autonomous vehicle. This news came as a shock to investors and analysts, as Tesla already has an autonomous car partnership with AMD's rival NVIDIA (NVDA). AMD's stock rose 4.7% on the news, and NVIDIA's stock fell almost 1% on that day.
Article continues below advertisement
Is AMD-Tesla automotive partnership for real?
AMD's stock price increase was short-lived. On September 21, 2017, Reuters reported that AMD's foundry partner, GF (Global Foundries), denied claims that AMD is working with Tesla on autonomous vehicle chips. This whole confusion occurred because of a misunderstanding.
At the 2017 GlobalFoundries Technology Conference, GF chief executive officer, Sanjay Jha, introduced the company's 12-nm (nanometer) LP FinFET (low power fin field-effect transistor) node. While detailing the features, he stated that the 12-nm node would have automotive capabilities, which is a major focus for GlobalFoundries and AMD. He used Tesla's name as an example but didn't state specifically that it was a customer of GlobalFoundries. This statement was misunderstood, which led to the rumors of an automotive partnership between AMD and Tesla.
What fueled automotive partnership news?
The unnamed source had several supporting points to believe that an AMD and Tesla deal was likely. A day before the misunderstanding cropped up, Bernstein analyst Max Warburton stated that Tesla's autonomous car technology has similar capabilities to those of other automakers like BMW and Volkswagen.
The source stated that Tesla is working on an initiative to develop an AI chip for self-driving cars. This initiative is being headed by Jim Keller, who has helped Apple (AAPL) develop its own mobile processors and AMD develop several chips. Tesla has poached several AMD veterans including director Ganesh Venkataramanan, principal hardware engineer Bill McGee, and system circuit design lead Dan Bailey, to work on this initiative.
Moreover, Tesla isn't the first company to develop its own AI chip. Google (GOOG) has already developed a TPU (tensor processing unit), Apple has added an AI chip to its iPhone X, and Microsoft (MSFT) is developing its own AI chip for HoloLens.
All the above points supported the news of a possible automotive partnership between AMD and Tesla. Several analysts had mixed views on the news.