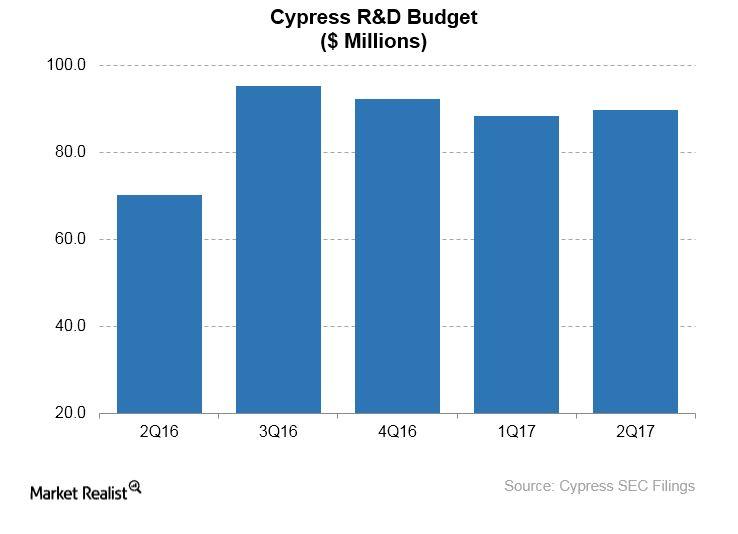 A Survey of Cypress Semiconductor's Cost Structure
By Ruchi Gupta

Sep. 1 2017, Updated 5:36 p.m. ET
Cypress 3.0 strategy
What cost is Cypress Semiconductor (CY) paying to execute its Cypress 3.0 strategy?
Scrutiny of Cypress's cost structure reveals interesting details about the Cypress 3.0 strategy execution—and its influence on budget allocation. This strategy is about driving growth by focusing on markets with more growth than the overall industry.
Cypress has maintained elevated spending on R&D (research and development) as innovation seems to be central to achieving consistent growth.
Article continues below advertisement
R&D spending remains elevated
In 2Q17, Cypress's R&D budget was $89.7 million, up from $88.5 million in the prior quarter and $70.2 million in 2Q16. The practice of maintaining high R&D spending cuts across Cypress's industry. For example, peers Silicon Laboratories (SLAB) and Maxim Integrated Products (MXIM) have equally maintained elevated R&D budgets in recent quarters.
Although its R&D budget allocation remains high, Cypress is still finding ways to prune costs. In 2Q17, for instance, the company's adjusted gross margin rose to 40.9% from 37.8% in 2Q16.
Cypress's total operating expenses for the latest quarter was $590.3 million, down from $965.1 million in 2Q16. Lower unusual expenses in the latest quarter saved the day. Notably, Cypress booked $488.8 million in unusual expenses in 2Q16.