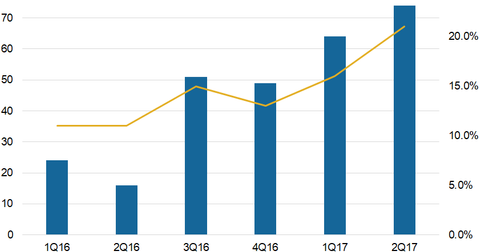 Why BlackRock Continues to Command Premium Valuations
By Robert Karr

Updated
Valuation premium
BlackRock (BLK) continues to command a premium valuation on stable and strong inflows, the performance of funds, global asset allocation, and consistent earnings. The company is now trading at a forward PE (price-to-earnings) ratio of 17.2x, compared to the industry average of 14.1x.
Overall, BlackRock's valuations have fallen in recent weeks, following lower-than-estimated earnings in 2Q17, and partially offset by continued strong inflows in ETFs and institutional offerings.
The company's peers are trading at the following forward PE ratios.
Together, these companies make up 4.7% of the Vanguard Financials ETF (VFH).
In 2Q17, BlackRock witnessed higher flows toward retail debt offerings, iShares equity offerings, and institutional offerings. These higher flows found help from wealth creation and broad economy fundamentals.
Article continues below advertisement
Products and performance help inflows
BlackRock's investment advisory performance rose $186 million in 2Q17 on a YoY (year-over-year) basis to $2.68 billion. However, investment advisory performance fees fell by $26 million to $48 million, reflecting the subdued performance of its funds year-over-year as well as sequentially.
BlackRock's major product offerings include its Scientific Active Equity business and Active Taxable Fixed Income business, which have performed 91% and 75% above benchmark performance, respectively, over the past year. The number stands at 92% and 77%, respectively, for a three-year period. The company's fundamental equity has 62% above benchmark performance during the past year.
BlackRock's offerings, backed by technology solutions and diversification, have helped the company bring in new flows at lower costs and higher efficiency.