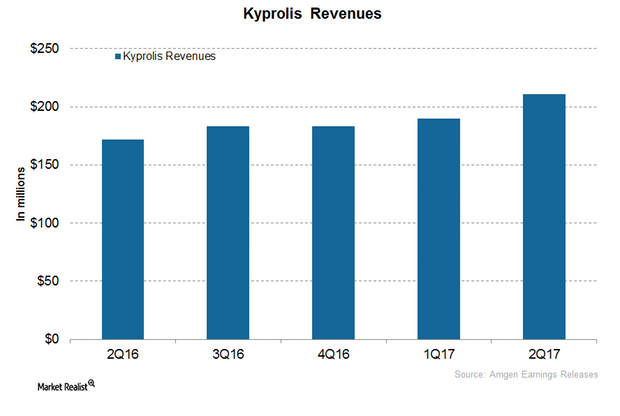 What Kyprolis Could Do for Amgen's Revenue Growth
By Daniel Collins

Aug. 15 2017, Updated 7:38 a.m. ET
Kyprolis's revenue trends
In 2Q17, Amgen's (AMGN) Kyprolis generated revenues of ~$211 million, which reflected ~23% growth on a YoY (year-over-year) basis and ~11% growth QoQ (quarter-over-quarter). In 2Q17, Kyprolis witnessed a ~20% volume growth QoQ, and its launch in international markets contributed heavily to the company's overall YoY revenue growth.
In 2Q17, in the US, Kyprolis generated revenues of ~$140 million, compared with $137 million in 1Q17. In 2Q17, outside the US, Kyprolis generated revenues of ~$71 million, which reflected ~34% growth QoQ.
Article continues below advertisement
Recent regulatory submissions
In July 2017, Amgen submitted an sNDA (supplemental New Drug Application) to the FDA (US Food and Drug Administration) to include overall survival data from the phase-3 Endeavor trial of Kyprolis. In July, Amgen also submitted a variation to the marketing application to the EMA (European Medical Agency) for including the same overall survival data for Kyprolis.
The phase-3 head-to-head Endeavor trial demonstrated that of the patients who were administered a Kyprolis 56 mg/m2 dose twice weekly as a 30-minute infusion with dexamethasone, 21% showed a reduction in risk of death, compared with Velcade and dexamethasone, resulting in a 7.6 months OS benefit.
In July 2017, Amgen presented the final analysis of the phase-3 Aspire trial, which showed that patients on Kyprolis, lenalidomide, and dexamethasone achieved a median overall survival of 48.3 months, compared with 40.4 months for patients on lenalidomide and dexamethasone therapy.
Overall, the Aspire and Endeavor trials proved that individuals with RRMM (relapsed or refractory multiple myeloma), when treated with a triplet regimen consisting of Kyprolis, lenalidomide, and dexamethasone, had a overall longer survival period. The superior data from these clinical trials could help oncologists recognize the risk-benefit ratio of Kyprolis compared with other treatment options.
Amgen has also started conducting a phase 3 trial with Kyprolis and Darzalex combination therapy for the treatment of individuals with RRMM.
Notably, Amgen's Kyprolis gives tough competition to Johnson & Johnson's (JNJ) Darzalex, Celgene's (CELG) Pomalyst and Revlimid, and Takeda Pharmaceutical's (TKPYY) Velcade. The growth in sales of Amgen's Kyprolis could strengthen the share prices of the iShares Russell 1000 Value ETF (IWD), and Amgen makes up ~0.76% of IWD's total portfolio holdings.