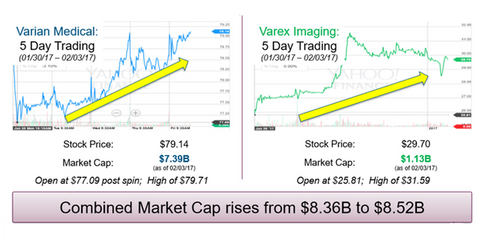 Varian Medical Systems: Better Aligned, More Focused
By Sarah Collins

Updated
Varian Medical Systems and Varex
On Jan 30, 2017, Varian Medical Systems (VAR) completed the spin-off of its Imaging Components business, which is now a standalone company named Varex Imaging (VREX). That day, Varian stock fell more than 12%.
Varian distributed 0.4 Varex shares per Varian share to shareholders as of January 20, 2017. The distribution took place on January 28, 2017. Varex now has approximately 38 million outstanding shares.
Article continues below advertisement
Other medical technology companies that have undergone strategic restructuring and have spun off or sold some of their businesses to focus on core capabilities include Abbott Laboratories (ABT), BD (BDX), and Baxter International (BAX). Investors interested in Varian could consider the iShares Edge MSCI Min Vol USA ETF (USMV), which has a ~0.50% exposure to Varian.
Management changes
Varex Imaging president and CEO Sunny Sanyal was previously president of Varian's Imaging Components business. Clarence Verhoef, who was Varian Medical Systems' senior vice president and corporate controller, is now Varex' chief financial officer. Two of the directors of Varian Medical Systems, Dr. Ruediger Naumann-Etienne and Dr. Eric R. Reinhardt, left Varian's board and joined Varex's board of directors.
Now a leaner oncology giant
Varian Medical Systems expects to register revenue growth of 2%–3% in 2Q17–4Q17. Varian is now focused on expanding its position as an oncology treatment device provider, investing significantly in its research and development initiatives to develop more innovative and efficient devices. The company recently launched the Halcyon system, which we'll discuss later in this series. The company announced the first cancer patient treatment using its HyperArc HDRT (high-definition radiotherapy) technology on August 8, 2017. Next, we'll look at Varian's long-term goals.