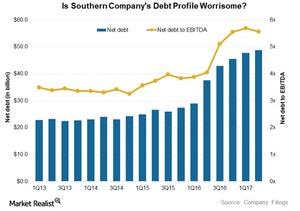 Is Southern Company's Leverage a Cause for Concern?
By Vineet Kulkarni

Updated
Southern Company's debt profile
Southern Company's (SO) total debt has increased substantially in the last one-year period, mostly due to its AGL Resources acquisition. However, its earnings in this period did not increase proportionately. Southern Company's gas operations flourished after this acquisition, but power plant issues severely dented its balance sheet in this period.
At the end of 2Q17, Southern Company's total debt stood at $50.2 billion. Its debt-to-market-capitalization ratio came in at 1.0x.
Article continues below advertisement
Leverage
We'll discuss Southern Company's leverage by assessing its debt-to-EBITDA[1. enterprise value to earnings before interest, tax, depreciation, and amortization] and debt-to-equity ratios. The net-debt-to-EBITDA ratio shows how many years it would take a company to repay its current debt if its debt and EBITDA are kept constant.
At the end of 2Q17, Georgia-based Southern Company had a net-debt-to-EBITDA ratio of 5.5x. This is significantly higher than its five-year historical debt-to-EBITDA and industry average ratio of ~4.0x. NextEra Energy's (NEE) ratio was near 4.3x, and Duke Energy's (DUK) ratio was ~5.5x.
Debt-to-equity ratio
A company's debt-to-equity ratio shows how much of a company's assets are financed by debt in comparison to equity. After 2Q17, Southern Company's debt-to-equity ratio was above 2.0x, considerably higher than the industry average of ~1.0x.
NextEra Energy and Duke Energy had debt-to-equity ratios of ~1.3x.
Credit ratings
Southern Company currently has an "A-" credit rating from Standard & Poor's with a "negative" outlook. Duke Energy and NextEra Energy also have "A-" ratings with a "stable" outlook from S&P.
You can read more about NextEra Energy and its solid performance in Why NextEra Energy Continues to Impress.