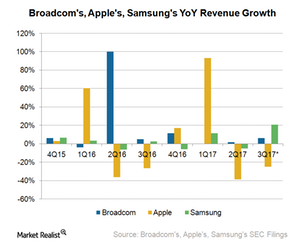 How Apple's Next iPhone Could Benefit Broadcom
By Puja Tayal

Aug. 24 2017, Updated 10:35 a.m. ET
What is driving Broadcom content in smartphones?
Broadcom (AVGO) supplies eight communication components for Apple's (AAPL) iPhone. With every new generation, Broadcom's content per phone increases as a phone's RF (radio frequency) subsystems grow more complex, including an increase in the number of frequency bands supported by the device and the use of the more-advanced 4G standard. 
Broadcom is a leading supplier of advanced FBAR (film bulk acoustic resonator) filters used in many 4G amplifier modules.
Article continues below advertisement
Analysts believe Broadcom to be the biggest beneficiary from iPhone 8
While these factors would contribute to the 40% growth in the dollar content per iPhone, the largest contributor is expected to be the wireless charging system that is rumored to be featured in the upcoming iPhones.
J.P. Morgan (JPM) reported that Apple and Broadcom have been working on a wireless charging system for iPhones for the past two years. The research firm stated that if Broadcom wins the order for wireless charging, its annual revenues could increase $500 million–$600 million, increasing its Wireless segment's revenues 14% YoY (year-over-year) in 2017.
Broadcom's next-generation Wi-Fi products
Broadcom is also developing next-generation Wi-Fi products to maintain its technological advantage. It launched the industry's first wireless chips that support the 802.11ax standard, which has 4x faster download speeds, 6x faster upload speeds, 4x better coverage, and 7x better battery life than the current 802.11ac chips.
Broadcom has launched three 802.11ax chips—Max WiFi: BCM43684 for residential Wi-Fi, BCM43694 for enterprise access points, and BCM4375 for smartphones.
All the three chips feature:
Article continues below advertisement
OFDMA (orthogonal frequency division multiple access), which allows multiple devices to communicate concurrently improving efficiency and capacity of a wireless network
MU-MIMO (multi-user multiple input, multiple output), which increases channel capacity
Target Wake Time, which allowss specific wake and sleep times to improve power efficiency
Spatial Reuse, which uses intelligence to divide channel capacity across various access points more efficiently
About 802.11ax
The wireless networking industry currently uses the 802.11ac standard. As the world moves toward IoT (Internet of Things), more devices are becoming connected to the Internet. The average household is expected to have about 50 connected devices by 2022, which has called for a faster wireless network standard—802.11ax.
The 802.11ax standard has yet to be approved by the IEEE (Institute of Electrical and Electronics Engineers), which codifies the standards used in commercial Wi-Fi. Broadcom, Qualcomm (QCOM), and Quantenna (QTNA) have developed pre-standard hardware for 802.11ax. It would take between six months to a year for this standard to commercialize.
Broadcom is currently sampling its Max WiFi chips with its partners. It is expected to launch these products commercially in 2018. 
Next, we'll look at the company's Enterprise Storage segment.