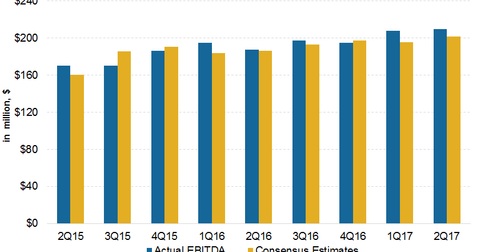 EnLink Midstream Continues to Expand in the STACK Region
By Kurt Gallon

Updated
ENLK posted 11.9% YoY EBITDA growth in 2Q17
EnLink Midstream Partners (ENLK) and its GP (general partner), EnLink Midstream (ENLC), reported 2Q17 earnings on August 2, 2017. ENLK's adjusted EBITDA rose to $209.7 million in 2Q17 compared to $187.4 million in 2Q16, a YoY decline of 11.9%. The partnership beat its 2Q17 EBITDA estimate by 3.9%. ENLK also refined its 2Q17 EBITDA guidance to $840 million and $880 million compared to the previous guidance of $815 million and $885 million. The new guidance at the midpoint represents a 1.2% increase compared to the previous guidance.
EnLink Midstream Partners' distributable cash flow rose to $154.3 million in 2Q17 compared to $150.9 million in 2Q16, a YoY growth of 2.3%.
The YoY growth in the partnership's 2Q17 EBITDA was mainly driven by strong natural gas throughput volumes in the Oklahoma and Louisiana segments, partially offset by volume declines in its Texas segment.
Article continues below advertisement
ENLK is bullish on expansion in the STACK region due to its sponsor Devon Energy's (DVN) strong presence in the region. ENLK announced a new crude oil gathering system called Black Coyote crude oil gathering system in the region during the second quarter. According to the 2Q17 earning release, the new gathering system will "support Devon Energy Corp.'s successful ongoing development of their acreage in the STACK, including Devon's multi-zone Showboat project."
ENLK declared flat 2Q17 distribution
EnLink Midstream Partners declared a flat distribution per unit of $0.39 for 2Q17. On distribution growth resumption, Mike Garberding, ENLK's CFO, said, "We keep focus on the balance sheet, and we will continue to build distribution coverage to get there. But the big thing for us we always watch is, the commodity price and the volatility around that. So what we will do is, always maintain our balance sheet bill coverage, and have that capability, and then watch that commodity price."
Analyst recommendations
55.6% of analysts rate EnLink Midstream Partners a "buy," 38.9% rate it a "hold," and the remaining 5.5% rate it a "sell" as of August 7. ENLK was last upgraded by Stifel Nicolaus to "buy." Overall, ENLK has seen five rating updates since the beginning of this year including two new coverages, two upgrades, and one downgrade. ENLK's average target price of $19.47 implies ~23.0% returns from its current price levels.