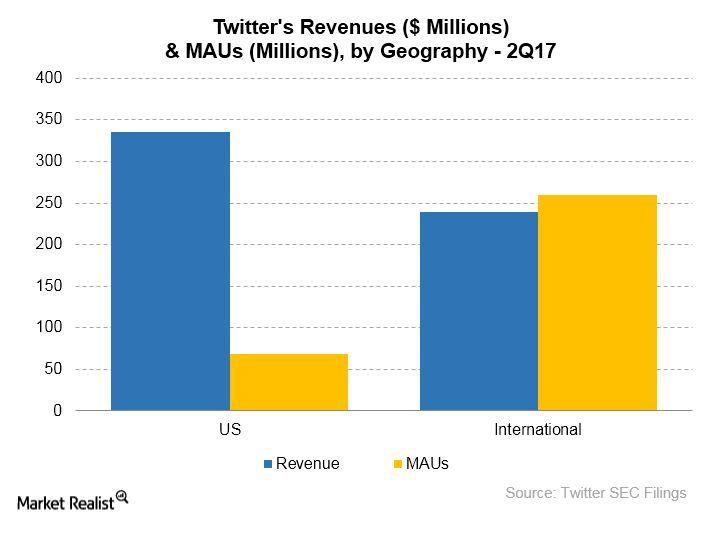 Analyzing Twitter's ARPU
Twitter counts 260 million MAUs overseas
Twitter (TWTR) didn't break out its ARPU (average revenue per user) metrics in the latest quarter. However, working backward with the total revenues and subscriber numbers reported can reveal what a subscriber is worth to the company.
In 2Q17, Twitter generated overall revenues of $574 million, with $355 million coming from the US (SPY) and $239 million coming from international markets. The company said it had an average of 328 million MAUs (monthly active users) worldwide, with 68 million of them being in the US and 260 million originating in its overseas markets.
Article continues below advertisement
Twitter's revenues per MAU
Twitter's total revenues of $574 million in 2Q17 and MAU of 328 million could imply that it generated $1.75 per MAU in 2Q17. That compares with revenues per MAU of $1.67 in 1Q17 and revenues per MAU of $1.92 in 2Q16. In the US, its revenues per MAU reached $4.92, and its international revenues per MAU totaled $0.92 in 2Q17.
In contrast, Facebook (FB) reported worldwide ARPU of $4.73 for 2Q17 as well as its US and Canada ARPU of $19.38. Facebook also breaks out its ARPU by geography in clusters such as Europe (EFA), Asia-Pacific, and ROW (rest of the world).
Twitter and Facebook have their most valuable subscribers in the US. The chart above shows Twitter's revenues and subscribers by region.
Factors at play in ARPU calculation
Because ARPU differs by region, the pattern of subscriber additions could affect this metric (QQQ). Companies like Facebook are finding ways to keep their ARPU growing even as they add more users in the low-ARPU regions.