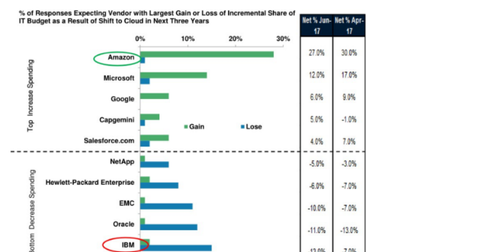 Why IBM Could Be the Biggest Loser in the Cloud Era
By Anne Shields

Jul. 19 2017, Updated 11:35 a.m. ET
The biggest loser in cloud era?
So far in this series, we've discussed expectations for IBM's (IBM) fiscal 2Q17 results. We also learned that spending on IT (information technology) infrastructure is expected to see the fastest growth this year. This news should be welcome for leading players in the cloud, such as Amazon (AMZN), Microsoft (MSFT), IBM, and Alphabet (GOOG). However, this is not the case, at least for IBM and Oracle (ORCL).

According to Business Insider, citing a June AlphaWise/Morgan Stanley report, CIOs (chief information officers) shared that they expect to cut spending on IBM and Oracle by 13%, and 11%, respectively, by the end of 2020.
This reduction is not because CIOs are holding back on investments in the cloud. In fact, they expect 46% of their workloads to be in the cloud by 2020, while only 34% are expected to be on premises.
Article continues below advertisement
Amazon benefited the most
The increased spending by CIOs on migration to the cloud helped Amazon and Microsoft the most. Amazon, with a ~40% market share, is the undisputed leader in the cloud space. It is distantly followed by Microsoft. CIOs expect to increase spending on Amazon and Microsoft by 27% and 12%, respectively.