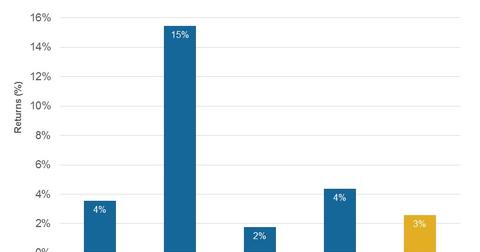 MPC, TSO, VLO, PSX: Did Refining Stocks Outperform SPY in 2Q17?
By Maitali Ramkumar

Updated
Refining stocks' performance
In 2Q17, from April 3 to June 30, 2017, Tesoro (TSO) rose 15%, the highest among its peers—Marathon Petroleum (MPC), Valero Energy (VLO), and Phillips 66 (PSX). During 2Q17, MPC and PSX rose 4% each, and VLO rose 2%.
As the broader market indicator, the SPDR S&P 500 ETF (SPY) rose 3% in 2Q17. TSO, MPC, and PSX outperformed SPY in 2Q17. Let's look at what led to the rise in refining stocks during 2Q17.
Article continues below advertisement
Refining stocks surge in 2Q17
Several factors impact downstream stocks, including regional cracks, spreads, and refined product inventory levels in the market.
Downstream companies like Tesoro (TSO), Marathon Petroleum (MPC), and Valero Energy (VLO) post refining margin indicators. They have seen a rise in these indicators quarter-over-quarter in 2Q17. The rise in indicators implies better refining margins for these companies in 2Q17 over 1Q17.
Tesoro's consolidated refining index has risen from $12.40 per barrel in 1Q17 to $14.70 per barrel in 2Q17. Also, MPC and VLO's refining margin indicators have shown strength in 2Q17 over 1Q17. We'll discuss these indicators in detail later in this series.
When these refining stocks posted their 1Q17 earnings, all four stocks posted a decent set of numbers. Marathon Petroleum, Tesoro, Valero Energy, and Phillips 66 posted 1Q17 earnings that surpassed their estimates.
Gasoline and distillates
The EIA (U.S. Energy Information Administration) reported a fall in gasoline as well as distillate inventory. Gasoline and distillate inventories fell 0.4% and 0.1% week-over-week, for the week ended June 23, 2017.
In 2Q17, refining stocks rose following a rise in refining margin indicators coupled with improved 1Q17 earnings releases. Plus, the fall in gasoline and distillate inventory levels in the industry further supported the prices. However, Tesoro had an unusually high run due to the completion of the Western Refining acquisition during the quarter.
Series overview
In this series, we'll do a cross-sectional analysis of integrated energy stocks. In the next few parts, we'll examine their moving average crossovers followed by their 14-day price forecast based on their implied volatility levels.
We'll also look at analysts' ratings for these companies, followed by their expected dividends for the next quarter, refining margin indicators trends in 2Q17, institutional ownership changes, and short interest movements. We'll also compare their valuations (PEG and forward) and changes in their recent correlation to oil.
In the next article, we'll see how the refining stocks' 50-day and 200-day moving averages changed in 2Q17.