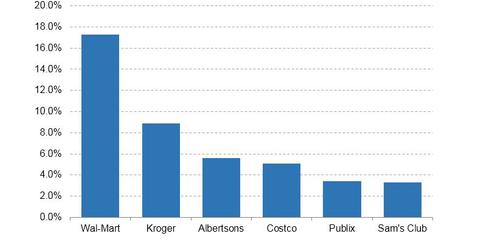 How Whole Foods Fits into the AmazonFresh Pickup Equation
By Neha Gupta

Updated
Orders ready in 15 minutes
Through its AmazonFresh Pickup service, Amazon (AMZN) allows Prime shoppers to order groceries online and pick them up at designated locations. In May, Amazon opened two AmazonFresh Pickup locations in its hometown, Seattle, after testing the service internally with its employees. Orders placed via AmazonFresh Pickup can be ready for pickup in 15 minutes.
AmazonFresh Pickup is viewed as one of Amazon's initiatives to help it attract more grocery spending. US (SPY) consumers spend an estimated $800.0 billion on retail grocery purchases annually. However, the bulk of that spending goes to brick-and-mortar retailers. Many consumers are still hesitant to order food online as they prefer to inspect food closely before they make a purchase.
Article continues below advertisement
Wal-Mart and peers feast at Amazon's expense
Giving shoppers the opportunity to pick up their grocery orders is a step to overcoming the barrier that has kept the bulk of food shopping offline. Since a lot of food shopping takes place offline, traditional retailers such as Wal-Mart (WMT), Costco Wholesale (COST), Kroger (KR), and Albertsons have the largest share of retail grocery sales, as shown in the above chart.
Most Prime shoppers are familiar with Whole Foods
Whole Foods (WFM) would fit into Amazon's grocery equation in several ways. One obvious way is that as a grocery retailer, Whole Foods brings the customer base and experience Amazon needs to accelerate its push into the retail food business. Another way is that Amazon could use Whole Foods' retail outlets as pickup locations, augmenting AmazonFresh Pickup. Perhaps the greatest opportunity in the arrangement is that about 62.0% of Amazon's Prime subscribers already shop at Whole Foods, according to Morgan Stanley (MS).