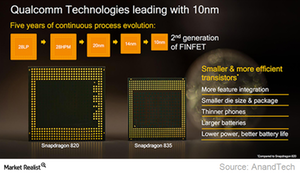 How Is QCOM Leveraging Its Snapdragon Processors to Boost Growth?
By Puja Tayal

Updated
Qualcomm's Snapdragon processors
Qualcomm (QCOM) is expanding the application of its technology beyond mobile and into the IoT (Internet of Things), automotive, and VR (virtual reality) spaces.
The company is integrating its technologies on the Snapdragon platform to improve efficiency and reduce costs. For instance, an integrated platform brings space and cost savings because it eliminates the need to duplicate memory, one for the modem and one for the application processor. Moreover, the modem's interface can be designed for optimum utilization. This capacity for optimization is one benefit Apple's (AAPL) mobile processors don't have because the company doesn't have its own modem technology.
Article continues below advertisement
Snapdragon 835 and 836
Working on the lines of integrated platforms, Qualcomm's SD835 SoC (Snapdragon 835 system-on-chip) has an integrated Gigabit LTE (long-term evolution) modem that's designed for several use cases such as VR and machine intelligence. The processor will power Google's (GOOG) Daydream and Tango projects.
Qualcomm is seeing strong demand for the SD835, but its supplies are limited as the initial ramp up to the 10 nm (nanometer) node has resulted in lower yields. This has created supply shortages to such an extent that Samsung (SSNLF) used the entire output for its Galaxy S8 Smartphone, leaving LG waiting in line. Qualcomm expects the SD835's supply issues to resolve by the end of 2017.
A report by technology blog Fudzilla claims that Qualcomm will launch a refresher SD836 SoC, which will power several flagship Smartphones that are due to launch in 2H17. The Google Pixel 2 is rumored to be the first device to use SD836.
Snapdragon 840 and 845
Qualcomm's recent patent infringement lawsuit against Apple has confirmed rumors that the former is developing the Snapdragon 845, which is rumored to start mass production by early 2018. The chipset will feature in several 2018 flagship Smartphones, with the Samsung Galaxy S9 expected to be the first to feature this chipset.
Some media reports state that the SD845 will be built on an advanced 10 nm node, while others claim that it will be built on a 7 nm node. It's still not confirmed which foundry will manufacture these chips—TSMC (TSM) or Samsung.
Fingerprint scanner
Qualcomm is enhancing its Snapdragon processors further with its new fingerprint scanner. The scanner will have the ability to function underneath glass and metal as well as underwater. It will also be able to detect a heartbeat and blood flow, and it will even be able to scan wet fingers, a feature that Apple's sensors lack.
The scanner will be able to work with all types of Snapdragon chipsets. The company will start sampling the scanner in October 2017 and make it available in early 2018.
Qualcomm is looking to boost its earnings by increasing its content per device with its RF (radio frequency) 360 joint venture with TDK. We'll explore this joint venture in the next article.